For people who eat out at a high level regularly, it's the small touches that make the difference.
I'm writing this while burning a short stick of incense – picked up as I was leaving Tamarind. It's a clever trick to make us remember our experience here, above others.
As dishes were delivered to our table, and knowing we would want to pass them round for sharing, we were each given a small, white plate-holder so we could pick up hot bowls with ease. Small touch; big impact.
The experience started with a charming welcome; I barely noticed my jacket being taken and hung up. Small touch; big impact.
Next was the beautiful metal banister and marble staircase leading down from street level to the dining room where golden-bronze walls and pillars, interspersed with silvered pewter mirrors, are cleverly lit to create a quietly opulent, sophisticated space.
The almost circular room is soft and welcoming with dramatic splashes of red from a striking central flower arrangement and roses in small vases on tables. The round, gold theme continues with the tables, place settings and chairs – the most comfortable restaurant chair I have ever sat in.
Our starters were exceptional. The smooth creaminess of the aloo tikki (a spinach and garlic filled potato cake) was balanced by its crunchy sago crust and a kick of tamarind chutney. Papdi chaat, a street food snack of spiced chick peas and whole wheat crisps, was elevated to greatness by its cleverly-blended cool, minty, yoghurty sauce with splashes of sweet-sour-hot tamarind. The richly marinated and garlicky pudhina lamp cutlet was as moist and tender as it is possible to be.
We were in a large group so tasting a bit of everything was possible. The meatiness of jumbo tiger prawns (Kalonji jhinga), beautifully paprika-pink, stood up to a big hit of chilli and ginger. Moist monkfish chunks (hariyali macchi), steeped in green mint and lime leaves, were generously spiced with coriander. Although a tomato-burnished sauce meant the chicken tikka had an air of the nation's favourite CTM (chicken tikka masala) about it, was far more refined and rich than its curry house cousin. Lamb masala was hearty, its dark, intensely spiced sauce enlivened by a crispy ginger julienne. Smoked aubergine (baingan bharta) was smooth and rich with a hint of cumin. But my spoon kept dipping into the dark and earthy dal makhni (slow cooked black lentils), a speciality of the north-west frontier. The Mughal tradition dominates the menu at Tamarind with influences from India's tropical southern coast, chef Alfred Prasad's homeland.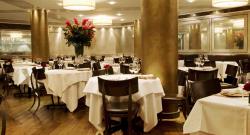 I'm not a fan of rice (it takes up room I'd rather cram with other delights) so stuck to breads. Tamarind's signature naan, stuffed with date and almond, was much praised by my fellow diners but I preferred the simple smokiness of tandoor burnished plain naan.
Puddings were stunningly pretty and in the Indian tradition, glammed-up: carrot fudge came decorated with silver leaf; pistachio kulfi was creamy and pungent (slightly over-dominated by a sour, raspberry coulis); mango and basil sorbet had the required intensity and scent of Alphonso mango.
We took the sommelier's advice: a South African Cinsault for me. 'Nothing too sissy. Something a bit playful, to hold up to the spice," I was advised. It was appropriately full-bodied and very easy to drink (£30). If your wallet is bottomless, a Pauillac would do nicely – perhaps Chateau Latour Premier Grand Cru Classé 1998 (£980).
Service was ever-present but never obtrusive or obsequious; there is real skill in making sure diners can easily catch a waiter's eye and have questions answered without interrupting the flow, or changing the atmosphere of, a conversation.
If I have any criticism, it was the over-use of the undeniably pretty baby tomato garnish. With a sprinkle of baby cress here, or a coriander leaf there, it seemed too easy an option to use it on more than one dish when everything else was so obviously full of effort.
Although eating à la carte is more usual when fine-dining, my advice is to opt for a fixed menu (£56 or £68 a head) as it is in their selections that you will experience the very finest of the very fine – and see why Tamarind has had a Michelin Star for 10 years. Book a table. And remember to remember it by taking home some incense.