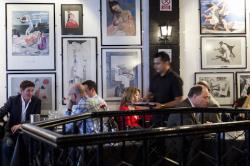 Long before Alexander McQueen made the skull a fashionable icon, the skull and crossbones of the Jolly Roger had me enthralled. A world away from the wreckers that plagued the UK coastlines, or indeed the modern-day versions from Somalia, the Hollywood pirates were full of romanticism – swashbuckling and rebellious, and always seemingly having the most fun – sailing the oceans, swigging rum and dropping anchor in some exotic island location.
So, when I heard that the restaurant I was headed to was a tapas restaurant called El Pirata, I was looking forward to capturing a little of that spirit, along with some yo, ho, ho and a bottle of… sangria, perhaps?
We arrived in the rain, but while the weather lacked brightness, and despite being located in the heart of posh Mayfair, the welcome and cosiness of the restaurant certainly supplied the warmth. With dark wood décor, black tablecloths and Picasso and Miró prints covering the walls, it had the look of a converted tavern, with a friendly ambience and the feel you tend to associate with a small family-run organisation.  
We started the meal not with rum or sangria, but instead a lovely bottle of Albariño, alongside wondrously flavourful Iberico ham, bread and a garlic dip, and chargrilled padron peppers. For years, I've heard that one in ten of these delicious peppers are spicy, but I've long since discarded that idea as false as, for all those that I have eaten, while lovely, they certainly didn't have any heat. Until that is, we hit the second-last on the plate. Trust me, when you find that hot one, while yum, you'll taste buds will know all about it!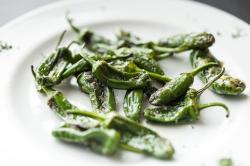 The fish courses consisted of butterflied prawns in a tomato sauce that had a bit of spice and a splash of something alcoholic – delicious with the dish and also spooned over the rice that was cooked in squid ink. Intensely black and full of flavour, the Goth-like lips we sported after eating it were more than worth it.
When I heard that the octopus we were served had been boiled, I had reservations… with rubber and old boots springing to mind, but what arrived were thinly sliced pieces that had been flavoured with a little olive oil and a hefty dash of paprika and which were, most importantly, wonderfully tender.
The following course included chicken and chorizo skewers, a stuffed aubergine (a bit like a Parmigiana di melanzane), and pork cheeks. In recent times "cheeks" have become a common sight on menus and every time I've ordered them, I've been guaranteed slow-cooked succulence – only for it to arrive and still to have a slight chewiness. Again, like that fiery padron pepper, this was a first – as every mouthful was incredibly tender and tasty.
Usually, I'm not that bothered about my fellow diners, but in-between courses I did cast my eye  – surreptitiously, of course – over the nearby tables. This was in hope that probably the most famous of Tinseltown pirates, Jack Sparrow aka Johnny Depp, had decided to pay a repeat visit to El Pirata.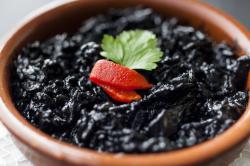 Satisfied that I had given the other patrons the once-over, I turned my attention to the dessert menu. The Crema Catalana was certainly tempting, but instead we went with the manager's recommendations: Helado de Vanilla al Pedro Ximenez (vanilla ice cream served with Pedro Ximenz – a bit like an Italian affogato, but served in a bowl), and Torrijas, a bread pudding, which was served in a slice that had been pan-fried, so it was crisp deliciousness on the outside and comfortingly soft in the middle. Dusted with cinnamon and served with vanilla ice cream, just writing about it has made me want to go back for some more – right now!
The extensive menu means that there are so many tempting dishes just begging to be tried, so a second visit is definitely a must from my part, especially as the friendly yet laid-back service did make you feel like you had abandoned the hustle and bustle of London for some holiday destination.
Having opened in 1994, El Pirata is a bit of a find that is definitely standing the test of time. You can enjoy your meal upstairs or downstairs in the restaurant, at the bar or even at a few al fresco tables outside and, if you're overwhelmed with the choices, there are two set menus available for £17.35 or £21.95 per person.
All too quickly, after a glass of sherry to complete what felt like a feast, it was time to leave behind all things pirate. Although that didn't include a sighting of Jack Sparrow, it did have me walking past other Pirates of the Caribbean star Keira Knightley on the road outside. Well, it is Mayfair, after all.