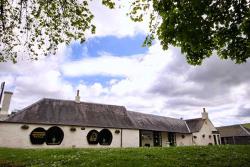 We got a room. It seemed the right thing to do under the circumstances. Not because we were behaving in a way likely to cause offence, you understand, but because The Horseshoe advertises itself as a restaurant with rooms and also we wanted to be able to sample some of the many fine wines general manager Mark Slaney has brought to his list since arriving at this Scottish Borders Inn just over a year ago. Driving back to Edinburgh was definitely off the menu.
First impressions are lasting, as the song says, and we were welcomed into a room that had been dressed to impress in muted tones of bronze and gold,  with touches of delightful frippery like the feather-shaded lamps on our bedside tables and a tea tray boasting proper china teacups and saucers as well as two generous slices of homemade parkin –  the stick-to-the-roof-of-your-mouth kind that we imagine our grannies used to bake, even if they didn't.  The bed looked comfortable but there was the small question of dinner to be got through before we could crawl under the duvet. It's a hard life.
There are only ten tables in the Horseshoe Restaurant, the ethos being to look after a small number of guests at a time but look after them'very, very well'. Settling into a Chesterfield in the candle-lit bar for my pre-dinner gin and tonic, warmed by a wood-burning stove and great expectations – after browsing the a la carte menu – I relaxed into the general amber glow. Slaney and head chef Alistair Craig share a common aim: good, fresh food, locally sourced; good wine, good service and an atmosphere so friendly and relaxing you will be reluctant to leave. Now there's a gauntlet waiting to be picked up.
I checked out our fellow diners – a family group, three couples and us – as we sampled warm, fennel wholemeal bread and amuse bouches of tiny goat's cheese pastries. Am I just ridiculously nosey? Or does everyone do this… imagining a back story for them all and doubtless much more colourful than the reality. Iain meanwhile was appreciating the wine list, chortling at the chatty descriptions and their accompanying cartoons. This is a serious wine list that doesn't take itself too seriously and we would heartily recommend eschewing just one bottle in favour of Slaney's recommendations by the glass to complement each chosen dish. Taking a sip and then a bite was like a perfect musical segue, one chord blending seamlessly into the next.
My starter of pea mousse, tartar potato, brown shrimp and garden leaves was both sweet and piquant, though my peas were disappointingly runny, definitely more foamy cream than mousse, slicked around the brown shrimp which seem to be experiencing a resurgence in our fine dining establishments. Iain's chilled tomato gazpacho, crab mayonnaise, mooli and sorrel was a Libran dish, lightly spiced and delicately balanced.
For his main, Iain chose grilled cod loin, braised baby gem, mussels, borlotti beans, and confit tomato. The petite, crisp-skinned serving of cod nestled into its smooth bed of baby gem, the mussels, beans and confit  roughing up the edges to provide texture to an unusual mix that was declared well executed and satisfying.  I tucked into a blushingly tender rump of Borders lamb, with garlic gnocchi, cavolo nero, shallots and a Madeira  sauce, the dark'black cabbage' leaves an excellent tangy counterpoint to the sauce, and the velvety gnocchi adding to the overall comfort mouth-feel of a delicious dish.
My dessert reminded me of the Gruffalo, as it was green, and purple, and none the worse for it. Pistachio sponge with yogurt sorbet, Bruce Farm cherries and honey was a treat for someone who loves sponge puddings as much as I do – I blame the parents, and the school – and Iain's Valrhona dark chocolate délice with croissant ice cream and honeycomb also harked back to childhood, tasting and feeling like the most luxurious Crunchie ever.
It would have been rude not to retire to the bar afterwards and sample one or two of the excellent rage of single malts on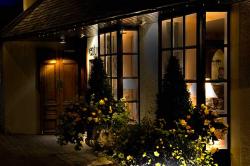 offer, and when we did finally make it across to our room and into bed, we slept like the cosseted babies the Horseshoe had made of us.
The bedrooms are all rated 4-star by the AA, and have en-suite showers, fluffy white bathrobes, organic toiletries handmade by local firm Mesmerick (though I would have preferred a shampoo and conditioner, and soap rather than just hand and body lotion) and the welcoming tea tray also includes fresh fruit, fresh milk in a flask to keep it cool, and mineral water. There are special breaks on offer on the website and the whole inn can be booked for private parties.
The Horseshoe Inn is a special place that made us feel special too. And no, we didn't want to leave.