Nik heads to the the trendiest place that ever did trend – Hackney – and samples East London's first and only raw seafood bar.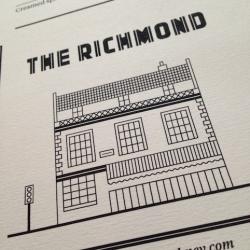 There's nowt more trendy than East London. Perhaps one day there will be, but for now it's the trendiest place that ever did trend. Odd coloured trousers, oddly shaped bikes, odd looking people. You just can't get more trendy.
Shall I say trendy again?
So when you're invited to a raw food restaurant in Dalston – The Richmond – you really do fear the worst. What will it be? Plate after plate of uncooked and inedible food, shovelled down by lank-haired, check shirt wearing dweebs all in the name of edginess?
Well, no. Surprisingly, The Richmond is a nice, clean, smart-looking pub. You could lift this place up and stick it in Mayfair and the yellow-trouser wearing, weekend in Devon dwelling folks wouldn't bat an eyelid.
What's all this raw food about then? Surely that's still edgy? Um, not really. It's more like a selection of ceviche; although, the dish we tried was a Middle Eastern style tuna, served as it was with pulped aubergine and Harissa.
There's something I love about raw tuna. I can't put my finger on it. It's fairly tasteless really, but the texture is pleasant and it seems to be expert at carrying other flavours along for the ride. I suppose in the same way that carrot is nice, when covered in various dips.
Oh, and they also do oysters. Lots of oysters. A 'here's a paper list, please circle your order with a pencil' lots of oysters.
Frankly, I dislike oysters. I wish I didn't – the pomp, ceremony and various accompaniments are all exciting, but I can't overlook the fact that they're giant globs of salty tasting slime. Plus, I'm allergic to mussels, so there's always the fear that I'll react in the same way with an oyster.
Whenever they're available, I always try and have one oyster, just to test my dislike. I had a small Japanese oyster this time, to reduce the slime quote by a factor of two. Dashing it with as many sauces I could grab, it went down a treat. Now back for more bread. That wonderful warm, crisp, fluffy, butter drenched carb. Now that's an entree!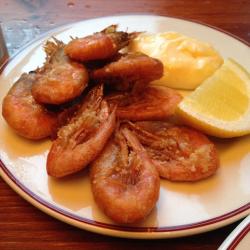 From oysters, we moved to starters, naturally. The afore-mentioned tuna carried the smokiness of the aubergine and harissa across the tongue. The crispy prawns, to be eaten with the heads on (which I didn't), held a satisfying crunch and came with a delicious lemon mayonnaise. The winner of them all was the beetroot though. Wow. Talk about vegetables. These are vegetables. Sweetly roasted, they were as good eaten on their own as they were dipped in a large dollop of goats curd. The accompanying apple was perhaps a little bit lost, but I wouldn't change it in case my ignorance altered this perfect dish too much. Bring me another now!
Mains are a sticky point. A fish dish tickled my eye, but I was pushed in the direction of a white bean stew with artichoke. The dish looked a picture, although by now it was far too dark for an iPhone to do it justice. The vegetables scattered on top, firm, sweet, delicious. The difficult were those beans. A little too al dente, well quite too al dente, in fact. Apologies followed from the waitress and the general manager, who have to go down on record as two of the best restaurant staff I've ever met. Refreshingly honest (I hate that cliche, but I left my thesaurus at home), brilliant recommendations, fantastic hosts. The sort of people who could join you at the table and keep the conversation going.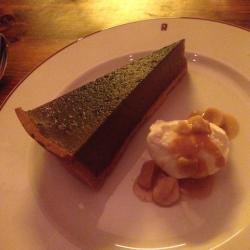 Finally, a pudding. My belt was loose by this stage. No room left, but I soldiered on. A banana tart. So rich, so bananary, with a crisp base of crunchy goodness. I only managed half. The rest consigned to the bin as, once again, my piggy little eyes had over estimated the size of my piggy little stomach.
Never mind, next time I head this Far East I'll leave those beans in the kitchen and gorge myself on raw food starters, beetroot and pudding.
Want more?