The Adamson,127 South Street, St Andrews, Fife KY16 9UH www.theadamson.com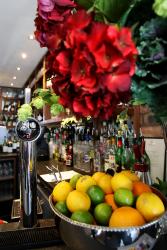 A little light reading up about the restaurant that was once the home of Dr John Adamson, eminent physician and photographer turned up a couple of negatives. It seemed the food served up to reviewers in the brasserie named for the building's former inhabitant had been a little under-exposed. Still, everyone deserves another shot so it was with the spirit of adventure about us that we took our seats by a window one sunny Sunday lunchtime.
The interior of the building – which was latterly the Fife coastal town's main post office – is certainly very photogenic with its bare brick and stone, old floorboards, dark wood and leather, backlit by lots of white painted walls and hung with abstract prints by Scottish Borders artist William Johnstone. While we were made welcome, there was a slight air of detachment to the service, though it was prompt and the staff as photo-worthy as the décor.
As it was lunchtime, I decided to stick with the lunch menu, served 12noon until 6pm daily (one course, £7.95, two for £10.95 and three for £13.95). My starter of farmhouse terrine with house pickle, wholegrain mustard and melba toast was prettily glazed – its
pinky pork coarse and perky with flecks of apricot and what looked like asparagus but I couldn't be sure from the taste. The accompanying toast was crisply rustic and my mini gherkins and silverskin onions would have set Bridget Jones mum all a quiver.
Iain was led astray from the lunch choices by the Adamson crab cocktail, a retro dish given a nip and tuck for the noughties and pronounced sweet and hearty on its bed of crispy lettuce.
We were by the sea so I plumped for fish and chips with crushed peas and tartar sauce which arrived in a wire basket, the chips fashionably skinny but most definitely full of potato rather than air, the fish chunky, fresh and moist within a feather-light crispy batter and the peas sweet and tasty. I hadn't actually been feeling overly hungry when we'd arrived at The Adamson having been very well fed and watered by my in-laws the previous evening and at breakfast, but the fish and chips were devoured in a flash, they were so good. I guess breeding will out, and my husband once again opted for the posh nosh, with roasted salmon nicoise, new potatoes, crispy quail's egg and tapenade. As befits our surroundings, it was an artfully arranged still life on a plate, and an interesting take on the French classic. The quail's egg yolk was perfectly cooked and ever-so-slightly runny, the salmon verging on rare, just as Iain likes it, and a few olives added to the c
omposition leaving the tapenade, in his opinion, redundant.
We were asked whether we needed a breather before looking at the sweet menu and gratefully accepted a break in proceedings. By now the restaurant that had been fairly quiet when we arrived was full to bursting but thankfully, the design and the acoustics meant we were still able to hear one another pondering over dessert choices.
Iain's attention landed back on the lunch menu for his pud, which he described as a'shallow bucket' of crème brulée. Was it too big, I asked? An emphatic'no' was his response, though he couldn't manage his homemade shortbread which was swept under a black napkin like an old fashioned snapper about to take a'flash,bang,wallop' family portrait and secreted into my handbag. I found them a few days later, soft and a little too sweet even for me. I have to admit to choosing my dessert – chocolate mousse and peanut butter purée with vanilla ice cream – purely because I w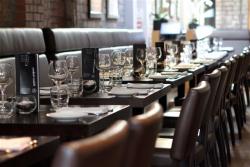 as fascinated to discover what peanut butter purée tastes like. It was as far from the stick-to-your-tongue peanut butter experience as you can imagine. The chocolate mousse sighed beneath the purée's light-as-chiffon touch and the taste was as delicate as the texture.
Our whole Adamson experience is now filed in our foodie album and captioned'excellent.' Our pioneering spirit paid off. The display of vintage cameras in the restaurant captures the spirit of the first pioneer of the building, Mr Adamson himself, who is credited with taking the first calotype photograph – using a negative on paper so an image could be reproduced. I'm happy to say that our meal in his namesake eatery produces nothing but positives on paper and we'd be more than happy to repeat the experience.