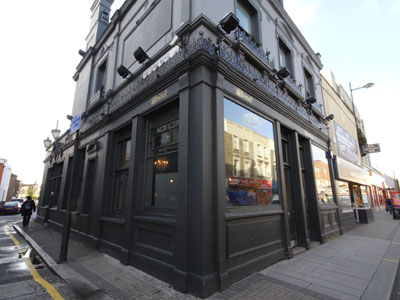 Situated in Fulham's busy North End Road, The Arbiter is one of a growing community of Gastro Pubs that seem to be springing up across the country. It has a slight shabbiness about it through its mismatched furniture, and the different zones that have been created, fairly typical of this type of establishment. Having said that it is both comfortable and appealing. The pub puts on regular entertainment for its customers, we went on a Thursday evening when they had an acoustic guitarist who sang a wide variety of songs well.
We sat down to choose our meal with a glass of the house white Pleno Blanco, a Spanish dry white that had some body, yet retained a crispness that was very pleasant. For starters we opted to have the sharing platter that was made up of all five of the starters on the menu, these were: a good French onion soup packed with onion it had a good sweetness to it; Camembert on toast, simple, but good; full flavoured griddled sardines with a tomato and olive salad; good quality pan fried chorizo sausage that was mild, but had some bite, served with diced sautéed potatoes and finally, smoked salmon which had an intense flavour and was served with soda bread. These were all good, it was a huge dish and at £11 for two to share was excellent value.
For mains, the pan fried salmon fish cakes were fresh tasting and light, well balanced by green salad they came with, The marinated puossin had a delicate Moroccan style flavouring from its marinade it was nicely tender, served on a bed of tabouleh with tzatziki, that gave a freshness to the dish. A side order of hand-cut chips turned out to be an unnecessary addition, but were nevertheless enjoyable and took me back, reminding me of the chips my mother used to make. All in all both dishes were good quality and quite substantial. We had the Pleno house red with mains which was soft with a full body and was very drinkable.
On to dessert, the hot chocolate pudding, coated in a good chocolate sauce was accompanied by a sweetened vanilla crème and was lovely. The vanilla cheesecake was good, and given some welcome tang by its accompanying raspberry coulis.
The wine list at The Arbiter started at £14.50 (£3.50 per glass) for the house wines, both of which we enjoyed. Service was good and attentive. Portion sizes were generous and the food was well presented. Their web site http://arbiter-pubs.co.uk/arbiter/Pages/contact.html has some detail that gives you an impression of the place. The Arbiter is a comfortable local pub, it is worth popping in to have a drink, see what they have on offer on their menu, which changes regularly and in terms of the entertainment they have on offer. Try the food, it is good.
akandpa