The Avalon Public House and Garden, 16 Balham Hill, London, SW12 9EB Tel 020 8675 8613
A short walk from Balham station, and very close to Clapham common, the Avalon is a little away from the main shopping drag, but in our view is all the better for it.Occupying a large double fronted plot, The Avalon has a good sized seating area to the front, which is shielded from the road and passers-by, by a shoulder height hedge. As you walk in, the place opens out and looks far larger than its external proportions suggest. It is, nevertheless, a very welcoming space, the different seating zones giving the bar area a good feel about it. Through the bar the restaurant space opens out. It has an attractive starkness to it, the white ceramic brick tiled walls, with reproduction black and sepia prints set in, give a feel that you could be in a huge converted Victorian kitchen. This topped off by two huge, impressive chain 'chandeliers' above good, comfortable, well spaced seating creating a relaxed atmosphere to dine in, away from the hubbub of the bar.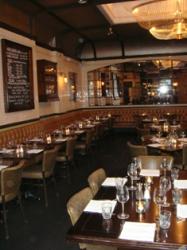 The Avalon has a good sized menu offering six starters, eight mains (aside from a range of steaks) and a variety of daily specials. As we took our seats we were brought a carafe of chilled water and were told that the menu had changed just two days earlier, also that the chef includes in the specials a different game meat each week: it was roast partridge when we were there.
As ever we struggled with the range of options, a good thing, of course. We eventually decided on the sticky pork salad and the potted duck and foie gras. The pork salad was a plateful of cubed belly pork, that had some bite, but was still tender, the sweetness derived through marinating the meat before cooking and the good soy based oriental dressing that was on the meat and the cucumber, coriander and peanut that completed the salad. The potted duck and foie gras was, effectively a well textured rough terrine, rich and good flavoured this was accompanied a tasty, but not aggressive, piccalilli and some quite light textured sourdough toast. Both of these were excellent dishes.
For mains there were more difficult choices, but the roast pork fillet with dry cured ham won through and, well, having seen the partridge on the specials, it was also a must. The pork fillet was beautifully cooked, moist and tender, just cooked through, having been protected in the process by the ham it was wrapped in, this was served with a smooth tasty parsnip puree, caramelised quince and a good jus. The partridge, served whole, was well worth the effort it took to eat, a slightly fibrous texture as you might expect, but it was cooked well, juicy and had great flavour, served with some good al dente braised red cabbage and game chips, it was a great dish
For dessert, the lemon posset was a two layered creation a light smooth creamy, lemon cheese sitting on top of a seriously lemony more liquid base, served with some langues du chat this was a light and tasty confection. The chocolate and pecan brownie was also good, though cooked a little more than I would prefer, having lost its moist centre, but it was served with a good milk ice cream, which contrasted well with the brownie.
The Avalon has a good range of wines, starting from a little under £12 a bottle, a number of these are served by the glass and half-carafe. We had a half-carafe of the house white with starters which had a fruity crispness to it, and with mains we had a half carafe of a full bodied, round Spanish red, that had good vanilla overtones. Service at the Avalon was good, and attentive.
A popular destination, serving great food, it is well worth a visit.