The Bull Hotel Restaurant and The Stable, Bridport, Dorset www.thebullhotel.co.uk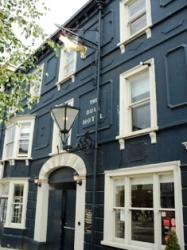 The Bull
The Bull Hotel sits fairly centrally in the main shopping street of Bridport, some 30 Minutes walk down South Street from the harbour and beach. We took a short break there en route back from Cornwall and were pleased that we did. It is a charming area, with a lot going for it. The Bull, where we stayed, is a rather deceptive place, this double fronted Hotel on East Street gives the impression that it is a fairly modest establishment. However, apart from the nineteen guest rooms, there are two bars, a dining room and a rather impressive ballroom. There is also The Stable, which has its own bar, where cider is the focus, together with some interesting and tasty pizzas and pies.
The Bull has been under its current ownership for some three years now and it is clear to see that a lot of care and attention to detail has gone into creating its unique charm. We stayed in the Fuchsia Flock room, it sounds a little camp and well, perhaps it is, but it is very luxuriously decorated, with a four poster bed, antique furniture and a separate bathroom that has a free-standing reclaimed roll top cast iron bath in the middle of the room; it was all very comfortable. We understand that all of The Bull's guest accommodation is decorated individually, so each room is different from the others. The exact age of the hotel is unknown, but we understand that there has been an Inn/hostelry on the site since 1593. It is quite a quirky building and on being shown to your room you wonder whether you will ever find it a second time on your own, it's a little rabbit warren like, with lots of half steps up or down on each floor which add to its character.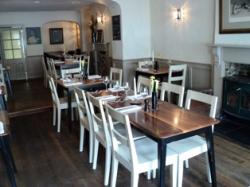 The Bull has a good sized dining room that has been kept fairly simple in its decor. We ate in the Restaurant on the evening that we arrived. Their lunch and dinner menu is the same and for starters the Devon red beef carpaccio, was beautifully melt in the mouth, it had great flavour and was accompanied well by a rocket salad and a shallot dressing. The hand-picked Lyme Bay scallops were three delightfully sweet good sized perfectly cooked scallops presented in the half shell sitting in a very tasty garlic and chive butter, so much so that extra bread was needed in order to mop up the residual buttery cooking juices.
For mains the 16 oz T-bone steak was a sizeable hunk, cooked medium it was well seasoned good flavoured piece of meat, which was nicely tender. Served with onion rings and a rocket salad it needed no other accompaniment. The free range chicken was tender, juicy and tasty and came with some good hand cut chips and a roasted garlic mayonnaise. These were two substantial and very good dishes.
After a rest we went on to desserts. The frozen hazelnut cake (a semifreddo) delivered a good rich creamy hazelnut mouthful and was well supported by some strawberries and raspberries. The caramelised apple tart was nicely tart and sweet, with a good thin pastry and supported by a good vanilla ice cream.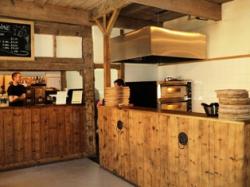 The Stable
We had lunch at The Stable one of the days we were there. This recently created eatery has a kind of modern rustic feel about it, perhaps unsurprisingly, given that it was originally a stable. You gain access to it from The Bull's car park at the rear of the Hotel.
With the bar and pizza oven to one end, there is heavy bench seating for customers and a stage area at its far end. The bar has its focus on cider and perry, describing itself as a Cider House; there is a choice of nearly 50 to select from, and regrettably, as we were driving home after eating lunch, we had to stick to water! But it is, undoubtedly a cider drinker's idea of heaven. Food at The stable is kept very simple, pies, pizzas and salads, plus there is also a small desert list.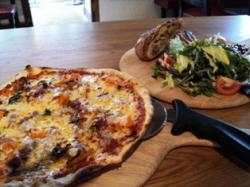 We shared The lamb roast pizza and a beef and horseradish pie. The pizza, about 12", had a light thin crust, onto which a good amount marinated local lamb and goats milk cheddar and sweet potato had been scattered, it was also seasoned with fresh mint, thyme and roast onions. It was an excellent creation, the light crispy base a great vehicle for this tasty combination that topped it. The pie was a substantial beast, the filling of minced beef, potato and more was very tasty, and had just a hint of heat from the horseradish all encased in a light, thin plaited pastry case. This came with a decent portion of mixed salad which accompanied it very well. These were two pretty substantial dishes that each had great flavours working well together.
We decided to go the whole nine yards and try two of the desserts. The hazelnut, chocolate and mascarpone pizza was a must, this a 6" thin crust crispy pizza base topped with nutella and dotted with spoonfuls of the sweet cream cheese. It worked remarkably well and was somewhat lighter that we thought it might be. The apple crumble pie was also lovely, good tangy apple with the right balance of sweetness and acidity, filling a thin case and topped with a good grumble that had a nuttiness from oats within the mixture. This came with a good portion of clotted cream, naturally and was a lovely was to finish off the meal.
The Bull is a great place to stay for a break, or to go to for a meal should you live within striking distance. It is novel, and they are serving some very good food in both the main hotel restaurant and in The Stable. Worth thinking about if you are considering a trip to Dorset and certainly a place you should go if you are within striking distance.