The Cambria, 40 Kemerton Road, Camberwell www.thecambria.com

The Cambria sits at the end of a row of terraced houses, on the corner of a nondescript residential road, like a sturdy bookend. From the outside it looks like many other trendy pubs, but on the inside it's something quite special. As you enter The Cambria it's like walking into someone's boudoir, walls covered in boldly patterned wallpaper, red leather clad front to the bar and chandeliers dripping from the ceiling, contrasted by rustic style furniture arranged over the stripped wooden floor.
The Cambria's menu is varied, with interesting dishes such as, Roasted salmon fillet with harissa potato and mushy pea cake and Pan fried duck breast served with dauphinoise potatoes, spinach and a cherry sauce. There's also a good selection of veggie dishes, like Field mushroom, green peppercorn and stilton pie, Aubergine and potato madras and Portobello mushroom stuffed with welsh rarebit cheese 'burger'. But the dessert list caught my eye and I if there were to be any extra indulgence that evening it would be of the sweet variety. Which one though?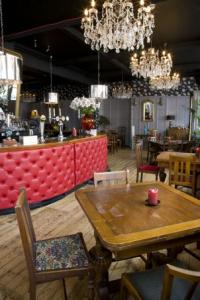 Having, essentially, thought out the meal back to front and not being one to turn down a good bit of cow when I see it, I opted for steak medium rare. The young, charismatic and super-friendly waitress was on hand to recommend a wine, 'red would go best with it' she enthused. However, I decided to go for a white and between us we settled on the Clifford Bay Sauvignon Blanc, a New Zealand white that was dry and crisp with good fruity flavours and a citrus scent.
When the steak arrived it was of gargantuan size; a massive slab of meat taking up almost the entire surface of the plate, tattooed with lines from the hot grill and dewy with beads of juice. At its epicentre was a golden pool of horseradish butter and slivers of caramelised onion. The chips arrived in a separate bowl, they wouldn't have fitted on the plate, but I barely noticed them whilst cutting into the meat excited to see if it looked as good on the inside as it did on the outside. It's pink, slightly bloody interior didn't let me down. Eating mouthful after mouthful with scant regard for lady like manners it occurred to me that Steak and Chips served well is probably one of the best dishes in the world. It's the meal I dream of when stuck in countries were nothing tastes like it does at home and in the unlikely event of my being on death row, it would be my chosen last meal. But as that isn't the case I had dessert to look forward to.
I'd ordered the sticky toffee pudding and didn't have to wait long for its arrival. This dessert didn't disappoint, it came sitting on a little white plate with a bulbous crown of vanilla bean ice cream and a sprig of mint. The best thing about a steamed pudding with ice cream is the contrast of hot and cold on the same plate. It was comforting with a nice spongy open texture and the syrupy hot sauce mingling with the melting ice cream was very inviting. The mix of aromas of the hot toffee, vanilla and mint from the garnish gave off a lovely heady sweet smell, it was just perfect.
If anyone gives you lip about South London being a cultural wasteland and tells you the only food we specialise in is fried chicken, I suggest you take them down to The Cambria where it's so good they'll feel very much at home, wherever they're from.