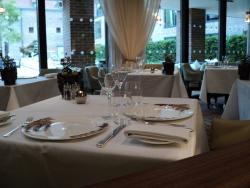 I used to think that there was just one Waldorf Astoria, but in my defence, I was a lot younger back then. Now I know that there is a whole collection of Waldorf Astoria hotels in some of the most exciting destinations on the planet… Manhattan… Versailles… Rome… er… Brentford? Yes, the newest hotel in the chain is in the splendid setting of Syon Park, which is a stone's throw from Brentford and has 200 acres of rolling green. In the shadow of the grandeur of Syon House, the hotel is, by comparison, a modern structure, but sympathetic to the surroundings and already seeming to be very much part of them. And within the hotel was our destination for the evening; The Capability restaurant.
Aptly named after the legendary gardener Capability Brown, The Capability is strongly focused on making the most of its grounds and gardens, growing as much of its fresh ingredients as possible. And summer offers an abundance of riches, as we were about to experience. Having walked through the stylish lobby, we entered the restaurant, which had a relaxed, mellow atmosphere; autumnal greens and browns proliferated, while picture windows gave a view across the inviting terrace and lightened the room nicely.
On, then, to food, and for starters, A had the spider crab salad with quail eggs and mayonnaise, and declared it excellent. The crab had an interesting sweetness to it, but lovely depth of flavour, and the quail eggs were glossily gorgeous. I decided on Streeton's West London smoked salmon, smoked in-house, and was very happy that I did; the salmon was thicker cut than usual, but had excellent texture and a nice punch of flavour. It was accompanied by strips of fennel, which were nice, although I preferred to have the fennel between bites of the salmon, rather than with it. Both dishes were topped with an edible flower from The Capability garden; these added a splash of contrast in both colour and taste.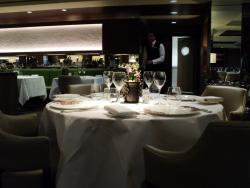 Our helpful server had told us that steaks are a speciality at The Capability, and there was a choice of two generous cuts; A went for the biggest, a 28 day aged rib eye on the bone. You don't need me to tell you that it was a huge portion of meat; this can sometimes lead to uneven cooking, but this big piece of beauty was medium rare, as requested, throughout, and meltingly tender.
The rib eye came with a side of 'Chairman's chips', and if I had doubts about the name, the product was spectacular; golden brown, crispy on the outside and fluffy on the inside. I really fancied chicken, and went for the white chicken with razor clams and yellow split peas. It was another excellent dish; the razor clam shell added an exotic touch to presentation, while the clam itself provided a subtle counterpoint to the moist, tender chicken.
Accompanying peas came in a generous portion added a pleasing texture to the dish. We ordered sides of minted Jersey Royals and garlic spinach, but in all honesty, we didn't need them; the portions of meat and the side of chips would have been ample. That said, we did both sides reasonable justice, and enjoyed them.
At this point, A, bless him, asked about the asparagus, or rather the beer battered asparagus, as this had piqued his interest earlier in the evening, and he wanted to know how it was prepared. Actions speaking louder than words, we were promptly brought four spears, two steamed and two of the aforementioned beer battered. Well, they were delicious; the beer batter was light and crisp, and the asparagus was perfect; cooked through, but still al dente, with just the right amount of resistance. I'd definitely have it again, but perhaps not on top of a starter and a main course.
After a suitable break for recovery, we tackled desserts. I had the Trinity burnt cream with rhubarb; this was nicely rich and smooth, with the rhubarb providing a welcome sharpness. For A, the clotted Cornish ice cream with gooseberry chutney, which also balanced richness and sharpness. There was actually more of the chutney than the ice cream, which wasn't, perhaps, the ideal ratio, but it was nonetheless a tasty end to the meal.
The wine list at the Capability has a decent selection, but isn't daunting, and there's a fair selection by the glass. We started with the Alto Bojo Sauvignon Blanc Valle Central, which was nicely dry and fruity; it worked equally well on its own, and with the starters. With mains, we had the Alamos Malbec and the Spy Valley Marlborough Pinot Noir. Both were excellent, full of flavour and delicious with and without food.
The service throughout was very good, in fact all through the hotel and restaurant, everyone was friendly and helpful, it was a real pleasure to be there. The Capability struck me as a splendid choice , for a celebration dinner, but it would be a shame to restrict visits there to high days and holidays. This is a place offering superb food and service in glorious surroundings, and I am looking forward to a return visit very soon.