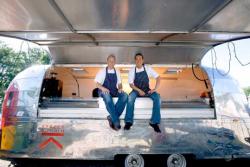 This summer it's all about 'mobilers' – street food vendors popping up all over the capital, offering Londoners a fresh take on affordable, seasonal food to rival that of any restaurant. Or so we are told.
Long gone are the days when street food meant greasy hot dogs and fried onions served from a cart, although you can find them still in the carparks of DIY Superstores on Sundays . There are now 'taco trucks', 'burro-mobiles' and 'chocolate bars' and Street Kitchen's vintage silver Airstream, from Jun Tanaka, Michelin-trained executive chef at Pearl Restaurant & Bar, and Mark Jankel, chef and founder of The Food Initiative.
Having successfully launched at last year's London Restaurant Festival, Street Kitchen is out of its garage and will be hitting the streets, popping up at various locations this summer, kicking off with Finsbury Avenue Square at the British Land / Blackstone-owned Broadgate, the premier office campus in the City.
From 27th June for three months, Jun and Mark will be serving their unique brand of simple yet refined British bistro-style lunches to City workers between 11.30am and 2.30pm. Find them at Broadgate Monday to Friday for the first two weeks, then Tuesday through Thursday until the end of September.
Unlike other street vendors, Street Kitchen sources all its seasonal produce from sustainable, organic farms and producers in the UK. As such their menu-not-so-fixe changes day to day, depending on availability. Typical take-away dishes might include crisp lamb shoulder with wet garlic, carrots and mint dressing; black bream with smoked aubergine and roast tomato vinaigrette and, for pudding, a cheeky cheesecake mousse with summer berry compote. This is gourmet grub but at street food prices with all dishes costing Londoners on-the-go between £4.50 and £7.50.
With sustainability central to the Street Kitchen philosophy, it goes beyond just the food and ingredients. Working closely with ecological economist, Dr Daniel Dias at Route2 Sustainability, Mark and Jun are developing systems to help them understand the impact of everything they use from energy and water to compostable food boxes (made from a bi-product of sugar beet).
If you are ready to try the restaurant experience with no menu, no snooty waiters, no waiting around, no annoying piped music or hefty bills, keep your eyes open for Street Kitchen and experience this pop-up for yourself.
To get daily updates and the latest locations from Mark and Jun, follow Street Kitchen on Twitter: @Streetkitchen.-