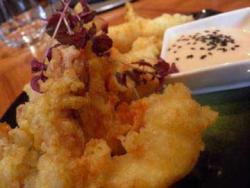 Malaysian restaurant Awana is celebrating the very best of the sea by hosting a two-week Seafood Festival from Monday 4th – Sunday 17th July. The restaurant's head chef, Virasamy Poliah has devised a feast blending exotic flavours and traditional Malaysian ingredients.
The Seafood Festival menu offers a selection of dishes with starters including Kupang Bakar, grilled half shelled mussels in lime leaf with lemongrass and chilli. As well as the exotic Tempura Udang, tempura tiger prawns served with homemade guava mayonnaise.
Guests can choose from four mains including Siput Goreng, stir fried fresh clams with ginger, garlic and dark soy sauce, Udang Harimau Bakar, grilled marinated king prawns. Ketam Goreng, stir fried crab in dry curry and Tom Yam Kupang, mussels cooked in Malaysian style tom yam soup.
Known as London's only fine dining Malaysian restaurant, Awana is specialises combining traditional Malaysian cooking techniques with a contemporary flair.