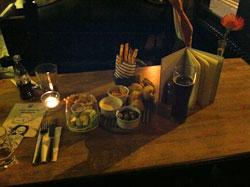 When the Golden Egg awoke one night from troubled dreams, it found itself changed into a monstrous(ly good) gastropub…
There's something strange happening to the Kilburn high road. To the locals, the ones that have been here for the longest, these may well seem like the end times.
Over the past few years, they've watched their old Irish pubs – the ones that have stubbornly retained a yellow, nicotiney haze years after the introduction of the smoking ban – give way to trendy new establishments frequented by young men in flannel shirts and, more strikingly, young women.
Gradually, but undeniably, they've seen the choice of Fosters or John Smiths be replaced by dizzying sections of ales, stouts and bitters, presented and described with a level of detail previously reserved for wine. Rumour has it that barmen have been overheard using words like'sessionable' and'hoppy'.
Amongst the old publicans, fear is rife – nobody knows who'll be next.
As a lifelong Kilburn resident, but perhaps still young enough to view this brave new world with an open mind, I was enlisted to investigate this strange phenomenon by heading down to the newest addition to the High Road's growing collection of trendy pubs and bars: the Earl Derby. 
When my companion, S and I arrive, I'm struck by how different the space is compared to how I remember it.
Standing on the former site of The Golden Egg, a dingy, airless pub I occasionally frequented as a teenager – and in which an old woman once attempted to sell me a slice of what she claimed to be Red Leicester from a black plastic bag – The Earl Derby is airy, uncluttered and covered in dark, polished wood. At eight in the evening, it's also incredibly lowly lit.
As we wander over to the far end of the bar – passing a good dozen beer taps along the way – we're intercepted by a barman and guided over to a farmhouse style table by the window.
A cursory glance over our menus and it's clear that me and S have our eyes on the same things and are going to have to do some negotiating. Luckily, just  as our bickering begins to get out of hand, our waiter reappears and with him, the social compulsion to behave like civilised adults.
To start we go for the vegetarian board and the salt and pepper squid with lime mayonnaise. After heated discussion (argument) we decide that I will go for the Pork and Chorizo Burger and S, the Wild Salmon Fish Cakes.
A far more decisive man than I, S also orders his desert in advance, committing himself to the Dark Chocolate Brownie. I tell the waiter that I want to see how I feel after my main course, but soon find myself being talked into the Sticky Toffee Pudding – admittedly, it doesn't take a huge amount of persuasion.
Our food order settled, we now turn to the pressing question of beer. As S doesn't drink, the duty to sample the Earl Derby's extensive selection weighs heavily – though not entirely unwelcomely – on my shoulders. Sensitive to my situation, our waiter says he'll bring over a few samples of beers he thinks I'll find interesting and returns a couple of minutes later with a London Porter and three others whose names, I'm ashamed to say, have been lost to the haze of the evening. One, despite being composed of little more than the customary hops, barley, yeast and water,  tastes uncannily of banana bread.  
The vegetarian board consists of breadsticks, bread, an artery hardening take on cauliflower cheese – deep fried cauliflowers and a cheese fondant – and hummus. Though not normally a fan of cauliflower cheese, I find my self fighting with S over the crisp, disconcertingly moreish, parcels. The hummus is clearly very fresh but is in dire need of a dash of olive oil – something I'm certain we would have received had we had the gumption to ask. The squid is without a doubt the highlight of the starter, however, the batter being perfectly crispy and the squid itself yielding enough to pose little danger to my incisors.
Shortly after the dregs of our starters are cleared away, our mains arrive.
As I had hoped, the sweetness of the caramelised red onions in my burger offset the smokiness of the pulled pork and beef perfectly. Whilst the beef is slightly dry, I suspect I could have prevented this by asking for the burger to be done rare. S's responses to my queries about his fishcakes are monosyllabic but positive – and his hostile reactions to my attempts to steal some in the name of journalistic integrity confirm his approval.
My sticky toffee pudding is served with a bottle of Innis Gunn, which is relatively dry, but has a unmistakeable hint of toffee to it, which, as our waiter had insisted it would, renders it an ideal companion to the pudding. S is less resistant to my attempts to steal some his brownie, which turns out be incredibly rich, and, as all good brownies should be, slightly gooey in the centre.
After about ten minutes of blissful, gluttony induced stupor, me and S head off. Walking back up a street still populated almost exclusively with pound shops and KFC knock-offs, I can't help feeling pleased at the arrival of the Earl Derby – and others of its kind. If the Earl Derby is representative of things to come, then change can't come quickly enough.