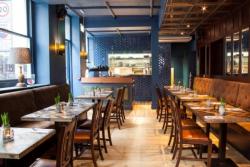 I was curious to visit The Fellow, located a stone's throw from King's Cross and describing itself as a "gastronomic wonderland of a pub" and see how it has made its mark in an area that isn't known for being a draw for foodies and is still trying to escape its unsavoury past.
But with the new international rail station, some effort is definitely being made to make the area around King's Cross an appealing destination. Still, unless you work nearby, you might not even notice The Fellow; its subtle exterior doesn't shout but welcomes you in along with crowds of happy-Friday diners and drinkers.
We were seated in a comfortable corner table, near the busy bar. Noise levels were average for a pub on a Friday evening; we didn't need to shout at each other and the background music wasn't invasive. We also didn't need to repeat our order to the staff, who were attentive and cheerful too – always a plus.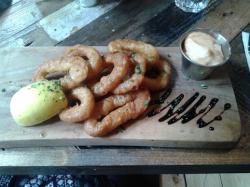 There are regular dishes on the menu but it changes according to the season and the day. I had to ration myself with the homemade bread as it was so tasty, I knew I'd fill up on it if I wasn't careful. For starters, I chose the beer battered squid which came served on a wooden slab (I know, I know, some might say it's overkill with the rustic, but I thought it looked great) with a delicate saffron aioli. Very tasty and the squid passed the test – not rubbery in the least.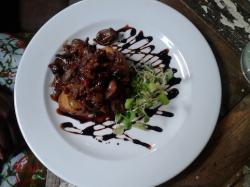 My friend had the pan-fried duck hearts with baby onions, pancetta and red wine jus. I have actually never had hearts before; liver and kidney yes, but somehow I've never tried a heart, so I had a bite of these and they were good – the flavour was rich and satisfying.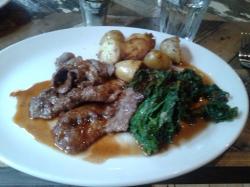 Next, I went for the scallopine al vino bianco with sautéed new potatoes and curly kale . I wondered whether 'scallopine' meant 'tiny scallops' but no, it's thin slices of beef, cut so they curl up when cooked to produce a scalloped edge. (Yes, I'm still learning. But, in my defence, there was no mention of meat on the menu and I was going by my phrasebook Italian knowledge.) It was good but a bit too fatty for my taste, so I filled up on the tatties and kale which were cooked with chilli and a bit too much salt, but our jug of water was refilled before we needed to ask for it, so that was fine.
My friend went for the haddock fillet with spinach, tomato, olive and caper sauce, which she was happy with – I tried a bit and it was perfectly cooked; light and soft fish with a tangy tomato sauce that was a great accompaniment.
Feeling a bit full (damn that bread!), we decided to share a dessert and went for the key lime cheesecake which had a lovely fresh sweetness; all I'd say was that it was a bit too gelatinous, but that is a pet hate of mine – I prefer cheesecakes to be whipped and creamy, or baked New York style. If they are too jelly-like it reminds me of blancmange – and no one wants to be reminded of blancmange.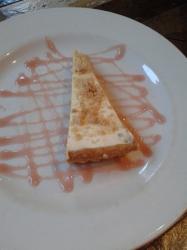 We weren't drinking that evening for various reasons, but The Fellow has a good selection of wines from Europe and South America as well as interesting cocktails, mostly inspired by American bartenders. The Red Hook, named after a neighbourhood in Brooklyn sounded intriguing: a modern variation on the classic Manhattan with rye whiskey, cognac, Benedictine, vermouth and angostura and perchauds bitters. I'd definitely return to sample that in the future at this friendly, lively welcoming spot in King's Cross – The Fellow is a jolly good one!