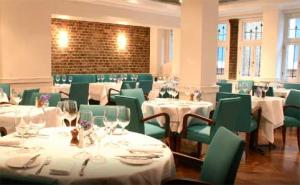 It came as a bit of a surprise, The Forge. I had no idea it was there, nudged up Garrick Street in Covent Garden, and it felt like such a find I assumed it was relatively new, which it isn't. It's a stone's throw from the fumy bustle of St Martin's Lane and Long Acre, so mark it on your radar for a pre or post-theatre visit, as it's ideal for that. It's fairly formal, but with an acquiescent vibe that West End restaurants seem to manage with ease and city restaurants often fall down on, for various reasons that I won't elaborate on now.
We were greeted genially by Robert Seigler, the owner, although we had no idea of this at the time. It's always a good sign, I think, when the proprietor is prepared to work alongside their team with a finger on the pulse of their business. No stuffy or sultry staff here either; everyone seemed rather relaxed in fact, oozing a quiet and efficient confidence. Elegant but understated styling gave the place an air of erudition. It's quite grown up with detail you tend to notice and appreciate if you are over 30 and have been faced with decorating dilemmas, like 'Do we retain the original features, or do we modernise?" Exposed brick walls are punctuated and softened with warmly lit alcoves and an abundance of fresh flowers. Comfy dining chairs, that didn't cause you to fidget with a numb bum after a while, were the main colour contributor to a simple scheme of teal and white. However, such a beautifully decorative ceiling should be left alone in my opinion, and down-lighters hidden elsewhere rather than proudly ruining one of the room's finest features.
The Modern European menu was a one-pager; a big page though and it was quite difficult to choose. This is always a good sign I think, so when guidance was offered from their knowledgeable PR we took it and opted for: Seafood salad – fresh, uncomplicated, but just slightly bland for my 'sock-it-to-me' taste buds. Impressively served on a dish of ice though, which I thought was a nice touch. Roasted Piemontese pepper with goat's cheese and anchovy – again, a very simple dish, but proclaimed very tasty by my D.P (dining partner) Clare, who said the anchovy was unusually subtle and didn't overpower the cheese. Mains were pan-fried sea bass with aubergine & basil risotto. Now, these are two things that I wouldn't have put together, but Clare loved the combination. The risotto's aubergine had a cumin infusion, an ever-so-subtle lift that was just the ride the sea bass was asking for; although this was a 5*piece of fish in my reckoning, so no rides strictly necessary. My braised ox cheek with celeriac fondant and roasted parsnips made me very happy and I daydreamed about that succulent, hearty meat in that rich jus for days after. Meanwhile, we knocked back a rather delightful half bottle of San Vincenzo, Monteforte 2008 from an impressive and well thought-out wine list; a seductive little Italian number that convinced us a half bottle was a stupid idea after all.
We made tracks after a chat with their rather charming chef, (now, they're a rare breed I can tell you) Andrew Barber, previously at Bleeding Heart among others. He gave me tips on how to cook his Ox Cheek recipe; these are the kind of chefs I like, not the irascible, superior type that don't believe you're capable of cooking their dishes yourself. I've since discovered
Andrew runs their cookery school, teaching novices like me, so this would explain his courteous and forbearing persona. And apparently, Robert Seigler runs a wine club, so their 500 strong wine list isn't down to an over-enthusiastic sommelier, just a passionate owner, who thankfully is on-hand to guide you if you haven't got a spare couple of hours to read it!
Clearly, there's lots of talent contained within these old walls and I'm chuffed to say that this surprising little find, turned out to be surprisingly good.