The Grazing Goat. 6 New Quebec Street, London W1H 7RQ www.thegrazinggoat.co.uk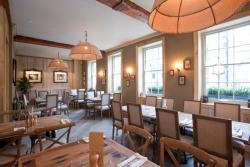 Just a minute or so's walk from the Marble Arch end of Oxford Street or Portman Square, The Grazing Goat takes its name from the previous usage of the land that the pub/hotel is built on. Apparently, the first Lady Portman was allergic to cow's milk and consequently goats grazed on the land to provide her with an alternative to it. Recently refurbished, The Grazing Goat has a 'modern rustic' feel, both to its bar and the first floor restaurant, with its wood clad walls, wooden floors and furniture enhanced with a scattering of artefacts, from days long gone, dotted around the place. The restaurant's a charming, comfortable space, we immediately felt at ease there.
After a slightly stressful journey there, a march having disrupted public transport, we each kicked off our evening there with a Sipsmith gin and tonic. Soon all seemed a lot better and calmer in the world, well our world anyway, as we sat deciding what we might like to eat in these surroundings that give the impression you could be miles from the bustle of central London.
Starters chosen, they soon arrived, chilli salt squid and lime dressing (a dipping sauce really) and the house smoked salmon with grilled asparagus and poached egg. The squid, crumbly coated little spirals, were among the most tender I have eaten in any restaurant, nicely seasoned they were supported very well by the dipping sauce, though I could quite happily have eaten them without it. The salmon was a decent sized chunk of the fish that had been given a sweetness and lovely smokiness from the home smoking process and was left with moist coral pink flesh inside the slightly cooked exterior. The asparagus was al dente and the egg cooked perfectly, bringing the whole dish together. These were two excellent starters and with them we each enjoyed a glass of Levin Loir Sauvignon Blanc, which matched well with our food choices.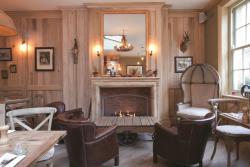 For mains, the free range Suffolk chicken with bacon and sage stuffing was quite substantial, given that it was half a roast chicken. This came with a choice of potato (garlic and rosemary mash in this case) and a choice of sauces (wild mushroom). The chicken was perfectly cooked, moist and tender and was accompanied extremely well by the mash and the sauce. I chose the day's special, duck; as it came 'highly recommended', I could hardly not do so. It turned out to be the right choice, the breast was served pink, it was tender and juicy with great flavour, the confit leg just fell from the bone; it was soft and tender. The duck came with black cherry sauce, some good, if not crispy, duck fat roast potatoes and a tangy celeriac remoulade. We shared a haricot bean salad with our mains which had a good dressing, and some good flavours going on. These were great dishes, and with them we each had a glass of De Chansac Carignan, a good medium bodied red that had nice berry fruits and cherry notes and paired well with each of the dishes.
The custard tart with rhubarb compote and rhubarb ice cream made for a great dessert. The pastry was light and the custard filling creamy with some wobble, the compote was tangy rather than 'tart' and the ice cream was nicely creamy with good rhubarb flavour. For me the baked chocolate and orange mousse cake was a must. The cake was intensely chocolaty and with a slightly fudgy texture that I loved, it was supported well by the less intense creamy chocolate ice cream and some good orange sauce; any chocolate lover will adore it.
We had a great meal at The Grazing Goat, their service is attentive and the staff very helpful. Check out their website, from the link above, it's easy to navigate and gives details of their menus. We went there on a Tuesday and were impressed that the dining room was practically full, so it's as well to book in advance when you might want to go there and eat. In addition to the bar and restaurant The Grazing Goat also has eight hotel rooms above the restaurant, these are a more modern style than the bar and restaurant and you will also find details of these on The Grazing Goat site..