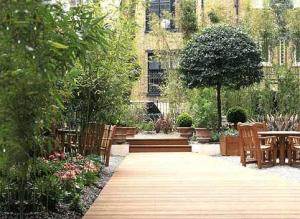 Tucked away in the backstreets of Mayfair, the Greenhouse has one of the most romantic entrances of any London restaurant. Despite the horticultural connotations of the name, if you've never been there before, you may well be (as I was) pleasantly surprised on arrival by the lush foliage and decked walkway which gild your entry with more than a little swank. A warm welcome, and a walk past the bar and into the dining room reveals a chic interior – all minimalist elegance: stem green chairs, white table-cloths and striking wooden wall-hangings.
Antonin Bonnet has held a Michelin star at The Greenhouse for the four years he has been working there, and it is thought by many that he should have been given a second this year. It certainly fits the French two star mold – silently swooping waiting staff who pull out your chair before you have a chance to reach for it yourself; a seriously priced tasting menu (£80 per person) and a bulging wine list that includes such treasures as a double magnum of Château Lafite‐Rothschild 1er Grand Cru Classé from 1959, which will set you back a tidy £15,500. Certainly one for a special occasion.
Looking and feeling the part is one thing, but executing food at a two-Michelin starred level is entirely another. As my meal plays out, I become increasingly baffled by why exactly Bonnet isn't more celebrated (not just by Michelin – but in general) for what he's doing here. We get off to a good start with some stilton and walnut crackers, which are crispy, melting and delicious and come with a palate cleansing rhubarb and apple jelly served on a little silver dish about the size of an oyster. We are instructed to 'eat eet like zee oyster," by our French waiter. I'm a sucker for that sort of thing (I blame Gerard Passedat), and it's a nice cooling, fruity sensation.
An amuse bouche of truffle veloute follows. Oh Lordy. There's a frothy celeriac cream on top of the slick of velvety veloute, which is hiding a crumbling chestnut, and there's a generous slice of black truffle on top. It's divine – that gorgeous mix of earthy truffle, sweet chestnut and cream from the celeriac is an accomplished combination of flavours for what is essentially no more than a mouthful (I could have wolfed a whole bowl). It does exactly what an amuse bouche is supposed to, and I'm raring for the next course.
Our first course of crab cannelloni displays both intricate culinary skill and a profound understanding of flavour and texture. The fresh flakes of crab are delicately flavoured with fennel and coriander and wrapped in a layer of squid and Swiss chard (the cannelloni), topped off with a salty smattering of salmon eggs. It's all sitting on mint radish, which imparts a cool and fragrant crunch. It's a fresh and refined dish I simply cannot fault.
Next comes one of Bonnet's latest and most popular inventions. It's a small package of warm but still opaque scallop, sandwiching a layer of black truffle. The parcel is surrounded by a thin, slightly astringent creamy broth. It's a rich and tasty pairing, and the truffle/scallop combination reminds me of the time I went truffle hunting in Provence and ate black truffle cooked in an open fire in foil packages, with thin slices of pig's neck lard. It has the same sweet, fresh, fungal flavour.
I don't normally like gnocchi – it can be so cloying and stodgy. This 'goat's cheese gnocchi' though is anything but – light as a cloud and almost like a piece of whipped goat's cheese – creamy, deep and minerally, with beetroot and earthy leaves which give it a forest floor element. The brill Thai curry is a delicate yet powerful dish, the fish flaking on the fork and the spiced sauce packing a punch of sourness and heat, as the best Thai curries do. It's a dish that seems to sum up Bonnet's style – precisely and immaculately executed, with really intelligent attention to flavour. The portions at The Greenhouse are not, by any stretch of the imagination, generous – but each mouthful justifies itself.
A dessert of Snix (a witty play on Snickers) is a rich chocolatey, salty combination which goes down well, but it's the cheese course which has me in raptures – as the cheese specialist (always a good sign) dishes me up a four year matured Comte. I thought my love for Comte couldn't get any stronger – and then he goes and pulls this out of the bag. It's essentially everything a good Comte should be – nutty sweet with hints of honey – but with these incredible salt crystals in it which explode on the palate with a rich, intense burst of deliciousness. This isn't one of your shiny new cheeses, it's a Comte that's had a few years to settle in and become really, really special – not too dissimilar perhaps, to the Greenhouse itself