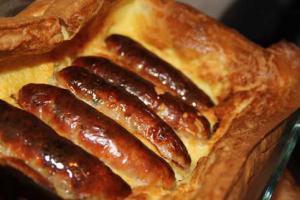 Spring has been delayed and I making the best of what should hopefully be the last days of Winter by focusing on comfort food in it's many guises. Last week my recipe came from the exotic far flung reaches of Southeast Asia and this week, I am bring it back to 'Good Old Blighty' with one of the nation's dishes, Toad in the hole. Yorkshire pudding batter enveloping as many plump and juicy sausages that you can fit into the dish, with a generous ladleing of meatylicious gravy. My recipe is simple, why? Because the one important rule of thumb for making a basic Yorkshire pudding batter is that you need equal measures of plain flour to eggs and milk. It' is just that simple really and in fact to ensure my measurements are equal, I measure them using a measuring jug! Bizarre, but it's foolproof and works time after time so it's a winner for me. You can use any sausages your heart desires, I used lovely pork and leek sausages from my local supermarket, but you can use anything you like, although the better quality sausages you use, the meatier they are which make a better Toad in the hole. I have also used Chorizo sausages (the raw, cooking variety) and they are absolutely delicious and add a really different, but utterly delicious twist to a British classic. As usual, the best dishes should be easily adaptable to suit your tastes and so the choice is yours!
Serves 2-3 (depending on how greedy you are)!
Ingredients
Pack of 6 best quality sausages of your choice
4 medium sized eggs (should equate to 200ml)
Plain Flour (measure 200ml quantity in a measuring jug)
200ml of full fat milk
2-3 tablespoons of vegetable oil
Oven paper for baking
Method
Preheat your oven to 220 degrees and line a baking tray and place your sausages on the tray and partially cook them in the oven for about 15 minutes or until they brown nicely (don't worry about them being undercooked, as they will get a further 20-25 minutes of cooking later) Once the sausages are done, remove and set aside. In an oven proof dish approximately 30cm x 20cm (it really doesn't have to be exact) add your oil and place the dish into the oven to heat your oil.
Whilst the oil is heating in the oven, start your batter. Taking your measured plain flour, milk and eggs, whisk the ingredients together in a bowl until smooth and pour it back into your measuring jug, which will make it easier to pour. Once this is done, remove the dish with the oil from the oven, pour an inch thick layer of batter into the oven dish (this should make it sizzle, then carefully take your sausage and lay them out however you like and then pour the rest of the batter into the dish (pouring around the edges is best) and place the dish back into the oven for 20-25 minutes but reducing your heat to 200 degrees only.
Once done, your batter should have risen beautifully and you will have combination of crispy Yorkshire pudding batter on the top and a slightly softer texture encasing the sausages. Serve with gravy and try not to eat the whole thing yourself. It hits the spot, every single time.