The Lonsdale, 48 Lonsdale Road, Notting Hill www.thelonsdale.co.uk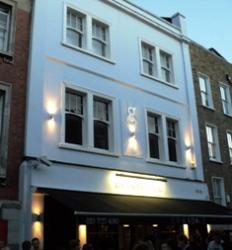 Some things, as good as they are on their own, don't necessarily work in combination so, aware that our evening's destination, The Lonsdale, specialises in steaks and cocktails, we had some doubts, but were naturally optimistic, off we went to the ever-popular Notting Hill.
Lonsdale Road is relatively tucked away, but full of fine old houses and only a short walk from the tube. The Lonsdale itself is handsome old building, the exterior has been given a simple but attractive refurbishment, with a small seating area to the front. It's clearly inside though where a lot of thought and money has gone: at the front of the building is a smart but cosy area, ideal for maybe eight people to have to themselves. Along the room, a smart bar with some very bling lighting leads to the dining area. We were tempted to linger at the bar, but knew that if we did, the rest of the evening would probably be lost in a cocktail-induced haze. The dining area is very dramatic, with red banquettes around the room, subtle gold walls, and a glorious chandelier in the recessed ceiling, it had a feel of the 1930s, but with modern touches keeping this contemporary.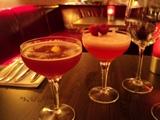 We meant to be good, really we did, but when our charming server suggested a cocktail to start the evening, our resistance collapsed like a house of cards. From the cocktail menu (a mighty thing, full of temptations), A had a Wibble (as you do), which was gin-based, vividly pink and vibrantly fruity, with a nice citrus punch. I went off-menu with a Clover Club, the recipe for which is, apparently, one hundred years-old, and in the 50's was the gentleman's cocktail of choice, this despite it being gin-based and a startling shade of pink. It was terrific, full of raspberry flavour, with a lovely foamy layer on top; it deserves to be re-discovered. Unsurprisingly, both cocktails went down almost as quickly as our resistance had done ten minutes earlier.
For starters, A opted for the scallops with chorizo and butternut squash puree; he was very chuffed with his dish of four fat scallops, particularly as they had the coral attached, which is how he (and I, for that matter) prefer them to be served. They were perfectly cooked, working well with the spicy chorizo and sweetness of the puree. I had the spicy crayfish, fennel and bitter leaf salad, which was another good dish: generous with the crayfish, which were juicy and full of flavour, pairing well with the shards of fennel, salad, and the halved cherry tomatoes that were studded through the bowl. Although we were tempted to have another cocktail with our starters, common sense prevailed, and we had a glass of the house white, Lou Grès D'Or, vin du pays du gard. This was a good choice, nicely dry and pairing well with our fishy starters.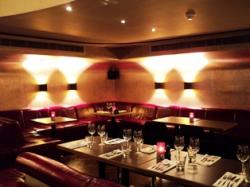 As I mentioned earlier, The Lonsdale specialises in steak, this comes from free-range Cairngorm cattle, 28-day aged and provided by Britain's oldest master-butcher. Again, resistance was futile. A went for the 350 gram rib-eye with honey mustard sauce, served medium-rare as requested, this was a good piece of meat. As is usually the case with this cut, it needed a certain amount of work, but the fat had given the meat a full, rich flavour that amply rewarded the small amount of effort required and it went well with the sauce. I opted for the 250 gram fillet, also medium-rare, which had a more delicate flavour than the rib-eye, but was excellent nonetheless and was complemented well by the accompanying peppercorn sauce. On the side we had the triple-cooked chips, which were crunchy and delicious, while the green beans with Parmesan was another good dish, the beans nicely al dente with the cheese adding a pleasing tang. If it's steak on the plate, then it really has to be a nice rich red in the glass. We tried the Old Vine garnacha; produced from 100 year-old vines, the wine had a rich, deep colour, and a rounded berry flavour. It was a terrific match for the meat.
For dessert, we decided to share two between us, but be warned The Lonsdale's desserts are quite substantial. Having said that the sticky toffee pudding was a good choice: the richness of the pudding, and sweetness of the caramel sauce made for a lovely dish. We also went for the chocolate fondue with marshmallows, raspberries, and pieces of melon, strawberry and pineapple. The fondue itself was very dark and rich; full of flavour, it must have contained at least 70% cocoa solids. Personally, I'm not keen on the combination of fresh fruit and chocolate, but I know I'm in the minority on that – certainly A was enjoying the dipping and swirling but for me, the marshmallows made a lovely match, and it was nice to have some fresh fruit after the richness of the mains.
The wine list at The Lonsdale isn't huge, but offers a good selection, including by the glass. Bottles start just under the £20 mark, with a lot of choice between £20-£30 and a few coming in above that, for anyone wanting to push the boat out. Service throughout was charming and helpful and from what we saw, it seems that staff at The Lonsdale have a nice rapport with their customers. And while their specialities of cocktails and steak aren't an obvious fit, they do both to a very high standard. It's a shame that Notting Hill is an awkward journey for us – we'd be very happy to have it as a local venue. And as for things that might not match perfectly… just have them one at a time as we did!