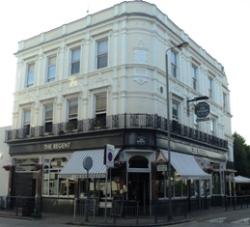 The Regent occupies a prime spot just yards from Balham station and in a previous incarnation, was The Balham Tup, a long-standing local fixture, which we understand focused strongly on sports. The new team are changing the emphasis to a greater balance of food and drink, but not to discard the sport element.
Although The Regent looks substantial from outside, venturing inside is like entering the Tardis: this place is big. The dining area is immediately inside: very light, and simply decorated, it has a homely, comfortable feel. This leads on to the bar, which is quite long, and has simple booths along its length: these are relatively quiet and good for couples or smaller groups. From there, the room opens out into a casual seating area, where the majority of drinkers congregated while were there. Add to this a small garden and there's a huge amount of space overall. There are some big screen tellies, but they don't dominate and on the evening we were there, the sound had been turned down, in favour of music.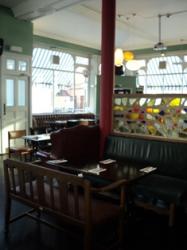 The Regent has different menus for lunch and evening, plus specials and while there's an element of typical gastropub stuff, there are also signs that the chef wants to go beyond the obvious and try some different dishes. But to start, we went for an old pub food standard, honey mustard sausages, and what a good idea that turned out to be. The little darlings were gorgeous to look at, caramelised to a burnished brown and to eat, a rustic style rough minced pork filling that was packed full of flavour and perfectly complemented by the honey mustard they came with. We also tried the mixed meat platter, a wooden board groaning with goodies: delicious parma ham, generous slices of smoked salmon and tranches of stuffed chicken breast, served with pitta and dips, including hummus and a really good baba ganoush, possibly the only way of making aubergine interesting,
For our mains, we had one dish off the regular menu, fish and chips, which was super stuff; the fish lightly battered and full of flavour, the chips fatly generous and nicely crisp. We also went for a dish from the specials menu, pork medallions, which had been well cooked and were served with a rocket salad, dressed with some glazed balsamic vinegar. Both of these were really good dishes, hearty and tasty and were generous portions.
There's a good selection of wines by the glass and to go with our food, we tried the Ruviano Verdicchio, which was very good, fruity and full of flavour. The Regent also has a great selection of cocktails, which are reasonably priced and the new team are looking to introduce new ones, utilising less commonly-used ingredients. In the interests of thoroughness, we tried a few to round off the evening. The manager is a former cocktail specialist and asked us what our drink of choice was, he then came back, after mixing and shaking, with two martini glasses filled with lovely mix of Hendrick's gin (our favourite) with bitters and cuecumber. They were very good indeed. We also tried a digestif cocktail, which turned out to be a twist on the absinthe drip – this packed a walloping aniseed flavour and while it might not be to everyone's taste: we thought it was delicious, but one was definitely enough, we wanted to end the evening conscious.
We had a really good evening at The Regent, it felt like an old-fashioned pub (in a good way), but with interesting food and a broad range of drinks on offer, it has a contemporary feel that makes for a good experience. At a time when pubs are reported as facing tough times, places like this deserve support and it certainly has ours – do give it a try.