The owner of Claude's Kitchen has turned his attention to gastropubs but what becomes of his refined British food when it's meant to seem all casual? Thankfully not a lot, finds William Morris.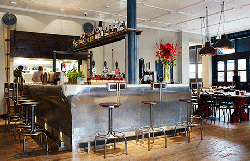 The Tommy Tucker is a pub in Fulham that's recently opened in the shell of an old one called The Pelican.
Cursory research suggests The Pelican was a traditional West End boozer in the grandest sense; a place where overpriced London Pride cascaded from the taps in 568ml waterfalls and Chelsea supporters could occasionally be found glassing their continental counterparts on Champions League evenings.
Tattooed, lager-immersed and eternally stung by the pain of unrequited love for their mothers, those real men would undoubtedly have asserted that The Pelican was a'good old neighbourhood pub'. It's clearly a matter for debate, as the Tommy Tucker is virtually unrecognisable compared to its predecessor, yet one of its founders thinks that only now is it a'good old neighbourhood pub'. Someone must be wrong.
Inside, it feels more like a restaurant than a pub; there is very little in the way of soft furnishings, pool tables, dartboards or jukeboxes, and the gents don't smell of urinal cakes and aggression. A set of high tables bereft of cutlery sits near the shiny, zinc-encased island bar but the rest of the room is clearly for eating. This is understandable given that Claude Compton is the man behind the menu.
Claude's Kitchen, Compton's first restaurant, opened in nearby Parsons Green two years ago and was voted one of the best new restaurants of 2013 by the Evening Standard. The food served there is'modern British' and what's more, it's excellent, which promises much for anyone with the Tommy Tucker as their local.
The menu is divided into meat, fish, vegetables and sides, presumably to assist the vast swathes of diners who pick their dishes by category rather than what they like the sound of most. We order crab cakes and herring for starters while appraising the shabby chic chairs, weathered wooden tables and the Sloane on the table next to us admonishing Daddy for the things he ought to have bought her but hasn't.
The crab cakes are in fact three fried balls of crab meat, crisp on the outside and soft in the middle, sent in convoy with roast garlic mayonnaise and lovage. Compton has combined the rich flavour of brown crab meat with buttery roast garlic and the tang of lovage to great effect, but it's as much the satisfying mix of textures that makes the dish such a pleasure to eat. Let us hope Daddy bought her those at least.
The pickles that accompany the smoked and roll-mopped herring have crunch and acidic punch, but I wonder how long two small fractions of fish will partner the vinegary turnip, beetroot and cucumber when there's so little of the former and so much of the latter. It's at this moment that J looks up from examining her plate and utters words to the effect of'probably not long enough'. It's an attractive, elegant starter that only seems unbalanced in the ratio of fish to everything else.
The suggestion of a pub roast dinner evokes a dismal greyscale montage of all the horrors previously plonked in front of me but with gentle persuasion, and because of a rib of beef to share on the menu, we soon find ourselves with a tray of pink beef and a plate each of roast vegetables, buttered greens and a Yorkshire pudding dusted with grated fresh horseradish.
The bone and fat in rib of beef gives the meat a beautiful flavour and this one is juicy and velvety inside thanks to the perfect amount of cooking. The appearance and temperature of the roast vegetables suggests they came out of the oven recently rather than hours ago, and they are gnarled and slightly caramelised. This is a good thing. 
If you like well-meant clichés, you'll maintain a preference for your mum's roast dinner but in truth ours trumped most you're ever likely to eat and you won't be left, as is so often the case, wishing you'd done your own at home.
Two courses and a bottle of a gorgeous, silky Bozeto de Exopto Rioja later, and we are beginning to slide down further into our seats. The best of two puddings is a chocolate, raisin and infused rum'choc ice' with salted caramel cream and almonds that proves an impeccable host for the holy dessert trinity of nuts, chocolate and booze.
According to the press blurb, the Tommy Tucker is the owners"contemporary take on the traditional pub' but the quality of Compton's food suggests that the place may come to be seen as an informal restaurant, and the name, cockney rhyming slang for'supper', only highlights where priorities lie. 
Is the Tommy Tucker a'traditional boozer'? A'good old neighbourhood pub'? If you're going there for the food, I suspect you won't really care what people call it.