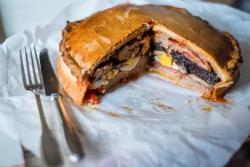 This is a novel and very tasty twist on a traditional English cooked breakfast from Lesley Holdship. It's not just for breakfast though – it makes a great meal at any time of the day!
Serves 6-8
Preparation time 40 minutes
Cooking time 75 minutes
Ingredients
350g plain flour
175g butter, diced from Hook and Son 
125g smoked streaky bacon from Northfield Farm 
25g butter
150g field mushrooms, sliced from Ted's Veg 
500g good sausage meat or sausages with skin removed
175g tomatoes, roughly chopped
125g black pudding, sliced from Sillfield Farm
4 hard boiled eggs, peeled and sliced
150g tomato ketchup from The Tomato Stall
1-2 tablespoons milk
Method
Preheat the oven to 180°C/gas mark 4. Place the flour in a large bowl then rub in the butter until the mixture resembles    breadcrumbs and there are no lumps of butter left.
Bring together with 125ml cold water using a round bladed table knife, working the pastry as little as possible.
Turn on to a lightly floured surface, knead very gently to make smooth then chill whilst getting the filling ready.
Lay the bacon on to a baking sheet and cook for 10 minutes in the oven. Heat the butter in a pan until really sizzling then add the mushrooms, cooking them over a high heat until they become a little golden and start to smell nutty.
Squodge the sausage meat and tomatoes together. Get a 22cm diametre metal pie dish ready.
Cut a piece of the pastry off for the lid, about ¼. Roll the large piece to fit the tin, transferring it by rolling it on to the rolling pin.
Spread half of the sausage meat in to the tin, then layer the rest of the ingredients finishing off with the remaining sausage meat. Mix the ketchup with 100ml water then pour over the filling.
Brush around the edges of the pastry with a little milk, then roll the remaining pastry to fit. Press the edges to seal, crimping all the way around.
Bake for an hour until golden, then serve with a pint of ale.
—