The Tommyfield, 185 Kennington Lane, London, SE11 4EZ www.thetommyfield.com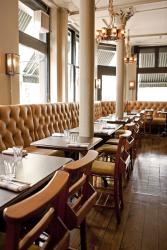 Kennington is a lively, vibrant part of south-east London. With a mix of people and cultures, it takes influences from many parts of the world, including – who'd have thought it? – Oldham. Welcome, then, to the Tommyfield, part of the small but well-formed Renaissance chain. It's a 'proper pub', and takes its name from the Lancashire market which housed Britain's first fish and chip shop.
From the outside, the Tommyfield certainly looks the part; smartly decked out in black, with large windows, and on a prominent corner plot, it's very inviting. Inside, it opens out into something a little more contemporary, but definitely with a pub feel. There's a decent sized bar, tables are well spaced out, and the room has a raised gallery, which I would say lends itself more to eating, but there's no particular split in practice.
We settled down with a glass of the Cataracatto Ca'di,Ponti, a Sicilian white which was fresh and full-flavoured, and were soon ready for something to eat. The Tommyfield menu has just a few choices, but with a good selection, including plenty of options for veggies. A had the moules mariniere, which was a good-sized portion, the muscles coral pink, plump and juicy. He polished off the lot and all the sauce to boot, declaring it rather good. I would have had the salad, but that always feels like a bit of a cop-out on a review, so I went for the Welsh rarebit instead. If I tell you it wasn't a wise decision, that's no reflection on the dish – it was very good, but boy, it was big. A generous slice of bread with a tangy cheese and mustard topping, grilled into melty loveliness. I'd say it's one to share, or for the seriously hungry/greedy.
The Tommyfield has a reasonably sized wine list, with a good choice of wines by the glass, and many of the bottles coming in at under £20. Ahead of the mains, we ordered a bottle of Nero d'Avola, Ca'di Ponti, which was good; being medium bodied, it was perhaps a little light for the robust meat dishes that we had chosen, but it was a very nice wine nonetheless.
Alongside the regular menu, the Tommyfield also has a specials board, split into fish (usually two, always sustainable) grilled or fried, pies (usually three, one of which is veggie) and grill (steaks and burger). A chose the venison shank from the regular menu; we'd had venison before, we'd had shank before, but venison shank was new to us both, and went down well. The meat had obviously been cooked slowly, which is pretty much a given with shank, and was very tender, just falling off the bone, with good flavour. Accompanying clapshot (potato and turnip) was good for soaking up the gravy, but quite mild on its own, as you might expect.
Pies are something of a speciality at the Tommyfield, as if I needed any encouragement to have one, and it had to be the steak and stout. I expected a ceramic dish with a filling topped off with pastry: wrong. What I got, perched on top of a verdant pile of greens, was a beast of a pie and not a ceramic dish in sight. It was rough-hewn, not pretty, and I could have wept with joy at the sheer unbridled pieness of it. So, full marks for appearance, but could the taste deliver? Yes it could; the short crust pastry was the perfect foil for the rich beefy filling, tangy with stout, the pie was full of flavour and literally filled to the brim. It was delicious, but more than I could manage. I silently (and perhaps unfairly) cursed the Welsh rarebit as I left a wedge of crust, but really, this was a mighty portion – and all the better for it.
After a suitable delay, we felt the need to see what desserts were on offer. I wanted the apple and blackberry crumble, but after the rarebit and the pie, it would have been suicidal, so I had the lemon posset instead. It was a good choice; silky and glossy, it looked gorgeous and frankly a little bit sexy. The lemon was delicate at first, but came through with a refreshing tartness. A had the cardamom and chocolate cake, which was actually more like a ganache/cheesecake, with a biscuit base and a gently trembling topping of gooey chocolate studded with biscuit. A thought it good, but felt the cardamom was very delicate. Now I'm not a fan of the stuff, it's okay in small doses, but too much and it's like a perfume bomb – yuk. But the flavour of the cake was excellent, with just enough cardamom to give a warm spiciness that I wasn't expecting. And if it wasn't what I'd call a cake, it was certainly what I'd call good.
We've been to three Renaissance venues now (these are our reviews of the Abbeville and the Avalon), and they're definitely onto something. Like its sister venues, the Tommyfield offers good food and drink in smart, casual surroundings, delivered by friendly, efficient staff. I can't say that it's a little piece of Oldham in the capital, but it's rather nearer that its namesake, and a cracking local venue.