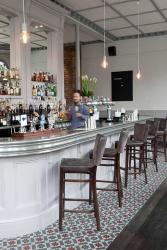 A bit bored with having your pork pulled and your meat minced? William Morris finds a new place in London where, for once, there's actually a chef in the kitchen
Maida Vale is one of those magical areas with roads sufficiently wide that the surgeons, accountants and fund managers who live there are allowed to park their Porsches two abreast in a designated area down the middle of the road.
The houses on these roads have elegantly tiled entrances, front doors flanked by bay trees and perfectly maintained sash windows that offer glimpses of Eames lounge chairs, Rothko paintings and various other symptoms of a lifestyle you'll never afford.
There are no fixie bikes on these roads. There are no denim jackets on these roads. The people on these roads want to make reservations for dinner. The people on these roads don't want chicken grease running down their arms. So it's perhaps unsurprising that these west London roads seem to have missed out on the glut of new restaurants that have opened in the capital recently.
The Truscott Arms is billed in the press blurb as a'creative hub of fine food, drink and art', which sounds much more in keeping with Maida Vale than the equivalent summary of restaurants serving Smokey Jethro's Slow-Cooked BBQ Bean Brisket Bucket or Rusty Deep-Fried Downlit Five-Cheese Junk Burger in the trendier parts of London.
The art element is on the second floor, where there's a small gallery with a bar sandwiched between two private dining rooms. Like the rest of the Victorian building, these rooms have been immaculately renovated. Original features like open fireplaces and cornicing have been retained, while fresh, chalky matt paint combines with the natural light streaming in through the many enormous windows to make the place feel airy and modern.
A flight of stairs beneath is an impressive dining room that proves there's no substitute for original architecture; the ceilings are high and the room stretches the width of the building. It instinctively feels like a good place to be and I suspect it did even before the sympathetic renovation.
While making these pseudo-intellectual mental notes on architecture, possibly for use in the next episode of Grand Designs, we chose starters of smoked salmon with cider jelly and guinea fowl and foie gras terrine. Historically ambivalent about the taste of foie gras, I ordered the terrine in the hope of reaching a definitive opinion but my slab of dubious ethics did nothing to make up my mind. Foie gras is buttery and rich, complementing the gaminess of the bird in the terrine, but is it worth the horrible force-feeding of ducky? I remain unconvinced.
My dining companion's smoked salmon was good if slightly unremarkable but we both chose wisely when we ordered the main course of braised lamb belly. Etienne Bruwer, formerly of Galvin at Windows, is head chef and it was this dish that pointed to someone of Michelin-starred background working in the kitchen.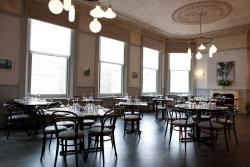 Swirls of lamb belly came with mashed potato and minted carrots, peas and broad beans that were cooked perfectly. The carrots had real bite and tang to contrast with the sweet, fatty meat and the accompanying aubergine caviar and lamb sauce showed how important saucing is in pushing a dish from good to outstanding. There were no slates or smears, just the unfussy presentation of an excellent plate of food.
The challenge for Bruwer is to get everything else on the menu up to the same high standard because, like the starters, puddings of crème brulee and chocolate ganache didn't have us in the same reverential stupor. The restaurant has been criticised for being too expensive but the prices of £6-£10 for a starter and £15-20 for main course will seem acceptable if everything else on the menu can catch up with the sparkle of the lamb dish.
The bar area on the ground floor is another spacious, light room offering Camden Brewery beers and guest ales on tap, all of which, mercifully, are not supplied by SABMiller or any other dull multi-national brewer. It's not difficult to imagine the pub full of people, sunshine and happy hubbub in the summer, if it ever arrives.
While far from ostentatious, it's obvious that a lot of money has been lavished on the makeover of the building and the well-kept locals will undoubtedly welcome The Truscott Arms as a relaxing place to discuss their consultancy fees and the cost of private education over a drink. I wouldn't blame them. The prices in the restaurant are relatively high for the food on offer but it may not matter – at least one road in west London has a new restaurant and I suspect there will be enough punters to ensure it does very well.
55 Shirland Rd Maida Vale W9 2JD  thetruscottarms.com