Town Hall Hotel Patriots Square London E2 9NF www.typingroom.com
Joel Porter goes all QWERTY over The Typing Room, a place striking all the right fashionable keys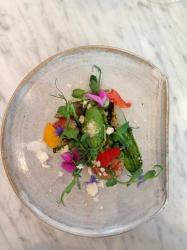 Before The Typing Room opened back in May, Nuno Mendes' Viajante occupied the ground floor restaurant space at the Bethnal Green Town Hall Hotel.
Nuno upped sticks and headed over to Marylebone to run Chiltern Firehouse (you may have heard of it), and The Typing Room was born, opening to rave reviews for its intricate modern British food.
It's certainly a tantalising prospect on paper: backed by Jason Atherton, this is the first solo venture from Lee Westcott, who has worked at Per Se, Noma and, most recently, Atherton's Hong Kong outposts.
East London has plenty of casual new restaurants, under arch ways and other such industrial settings, so it's nice that The Typing Room feels like a proper grown up restaurant, much like The Clove Club just down the road in the old Shoreditch Town Hall.
Turning left from the entrance hall (right takes you to the excellent Peg + Patriot) Typing Room is comfortably laid out with smart wooden furniture and low hanging pendant light fixtures. Large windows let plenty of light into the stylish dining room, illuminating the chefs in the open kitchen at one end, where the ever-present Lee Westcott oversees service.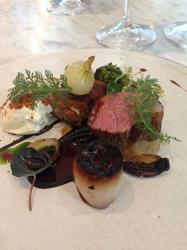 An a la carte menu is available for those with tasting menu phobia but after experiencing the full six course lunch with matching wines, the latter comes highly recommended.
From a choice of snacks came crispy fish skin, smoke cod, oyster and dill – a perfect fishy mouthful – and a chicken wing'drumstick' – shredded wing meat, fried in breadcrumbs and wrapped round a small bone – with wild garlic, potato and lemon dipping sauce.
The first'proper' starter arrived next, an ideal summer's dish of crayfish tails served with turnip, beautifully fresh peas and a pea puree. Following this was an unexpected highlight of the meal: a yeasted cauliflower dish composed of crispy thin shards and soft richly flavoured florets served with raisins, capers and mint.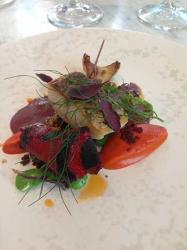 Of the two'main' courses, the lamb with smoked aubergine, wild garlic, yoghurt and onions just edged it above the sea bass with heritage tomato, courgette and squid. Both dishes were well executed but the tried and tested flavours of the tender lamb with smoky aubergine was hard to resist. Dessert was equally satisfying: rich chocolate mousse with amaretto and almonds of varying forms and textures scattered over the plate.
Service was smooth with many of the dishes being bought to the table by the chefs; no longer a novel approach but still an enjoyable part of the experience. Wine pairings from the sommelier Miguel Gomez were also excellent throughout.
On this evidence, Lee Westcott deserves the praise received so far for his first solo restaurant. Some have called this a'lucky' site but luck has nothing to do with the quality of the cooking at The Typing Room. If there is something special about the Town Hall hotel, however, then it's certainly an appropriate venue for such an exciting young chef.