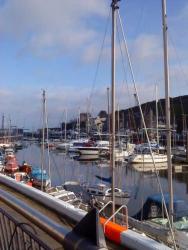 Belonging to the off-kilter side of Victoriana, The Velvet Lobster presides over Douglas quay like a teetering jelly – a tall, friendly building that's weathered its many uses with good grace. There's a reference to surrealism in the name, but the décor's owes more to deco than Dali and there are no plastic lobsters or zanily named dishes besides the "glass of pink or yellow milk" for kids.
Having something of a timeless quality The Lobster isn't circumscribed by any of its influences, which harmonise by virtue of some inscrutable law – in other words, it tries, but not too hard. I've always found it to be most reminiscent of a French brassiere, with the kind of good coffee, red wine and unpretentious food that makes people relax and linger for longer than they should.
The menu doesn't change much, offering lots of snacks based on good quality ingredients – crostini, bubbling things on toast, soups, salamis, pates, homemade cakes, savoury pastries with relish, smoked salmon, and punchy little salads with tangy cheeses – to help keep the drinks and conversation flowing. The specials board invariably offers a selection of three or four stews, from Korean beef served with rice noodles to navarin of lamb or classic bourguignon.
On my last visit, I ordered the Karachi lamb stew and my friend had the winter vegetable. The servings aren't vast, but the food is robust and filling. My lamb was tender and the sauce was nicely enriched from a long time on the stove. If I'm honest though, I'm not sure the spicing worked – it tasted as though someone had chucked in a bit of everything, and, although I personally love salt, I found that too much had been added. My friend's winter vegetable had great depth of flavour sweetened by coconut, a lovely mellow stew with white beans and sweet potatoes.
Both dishes were pared down to a judicious bowlful and a piece of crusty bread, and while I admire the simplicity, I couldn't help wishing for a bit of green on the side. Stews benefit from something fresh to lighten the load, and at £9.00 the pricing could easily accommodate a few dressed leaves rather than customers having to order a separate dish of salad or veg, which I always find a little cynical and therefore at odds with this kind of venue.
There's a kind of mutual osmosis between The Lobster and its diverse clientele, and this stops the place being hijacked by cliques; not everything is fair-trade or organic, not all the staff have dredge locks, and it's unlikely that someone will start strumming the guitar or free-styling poetry while you attend to your bagel. You can plug into the low-key buzz, or spread yourself out with the paper, a piece of coconut cake, and a view straight out of a great seafaring yarn.