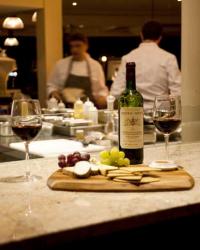 Like shy young forest fauns emerging into a sunlit clearing, the middle-class of Streatham are coming into the Manor Arms as I eat. They look around suspiciously at first; perhaps it's a trap? Then they visibly relax as they take in the gorgeous 1930s room, the open kitchen, the sensitive restoration, and the singular lack of hoodies. Could it really be true, does Streatham finally have somewhere they can safely go for 'supper'?
My uncle used to drink in this pub thirty years ago after attending Mass in St Leonard's Church opposite; he wasn't from our rather more Jewish side of the family of course. Since those days the place fell into serious decay with wide screen football, wide boys, pool tables, crap paintwork and all the other terrible trademarks of a typical London Lager Barn.
Who would have guessed that under that 70s skin was so much fine original décor? Wood panels, superb tiling, glorious bowed windows, architectural features and doors and more. In many ways whoever covered all that up did the pub a real favour; hiding and preserving features that would otherwise have been stripped out and sold off by now.
So as you might have guessed, I like it a lot. It may be incongruous in the area, like a spaceship from Planet Islington crash-landed in a dodgy neighbourhood, but it's great to see it here. Can the food match the restoration though?
Sensibly the open kitchen under Chef Matt Pepperell has a short menu and one that is large on things that can be turned out by a small team. No sauces, no frippery, no drama. My salad of mixed beetroots, goats curd and pickled walnuts is pretty good, not often we get to see fresh goats cheese over in the UK.
The beets are gold and purple and tender. The cheese is so mild that it doesn't quite contrast enough with the beets, I'd have preferred a stronger, more affinee cheese but nonetheless it's a good and rather virtuous eat.
P's never had salt beef before, either in the deli way hot and sliced, or in the more American way of hunks of meat. She liked it a lot though; the correct accompaniment of potato salad and spiky horseradish was perfect with the soft brisket.
These dishes came out pretty smartly, but time dragged with mains and we reached the point where conversation flags and you start to look around enquiringly, and more than a little hopefully. At a far table a woman who was either having dinner with the two funniest students in London, or about an hour away from a nervous breakdown, continued to emit near constant ear-shattering cackles that had diners wincing as if under artillery fire.
Considering P's Shepherd Pie, made from quality Elwy Valley lamb, must have been prepared in advance and that my T Bone Pork only wanted grilling, the ongoing delay was hard to fathom. When the dishes did arrive they'd forgotten my chips too.
The pork was excellent; beaten thin, smokily grilled and prettiy crosshatched with sear lines. The poached egg on top was soft boiled not runny though and the Waldorf salad was as scantily dressed as a supermodel on a swimwear shoot. It needed much more. And my crackling was also MIA.
P's broccoli was verging on detumescent and the pie was hot enough to melt metal. A rather good pie she thought, but I found it too sweet for my taste. Still I liked the fact it had green peas in it, mum style. My chips turned up toward the end and were clearly home made, decently crunchy but a bit overcooked. My crackling finally turned up too and was worth the wait, crispy outside, runny with fine fat inside.
We shared a dessert of Pear and Berry Pie, with rhubarb custard and it was homely and comforting but once again so hot it made the air shimmer all around and so eating it was a scorching experience. Why do that?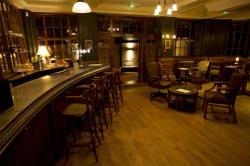 My spies (I live around the corner) tell me Sunday lunch is packing people in, the breakfast menu looks good and there's a Kiddie's Menu for people determined to ruin everybody else's brunch by bringing their offspring in to run around and scream while mum and dad pretend not to notice.
Maybe I'm being biased toward my own manor, but the Manor Arms is just what Streatham needs. We have wide-open spaces, we have large houses, our streets are prettily decorated with Tyskie tins and now we have somewhere to eat that isn't Subway. If the kitchen could speed up, and the waitresses not forget things, it could be a real winner innit?