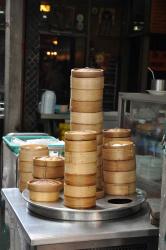 With all the discussion recently about the Michelin Guide and whether or not its 'definitive authority' still holds weight, punters are looking towards other oracles for gastronomic insight. While some head straight for the internet glossaries, others hold their ear to the artificial intelligence vine (Twitter) and follow trends.
All restaurants push something; all too willing to thrust another gimmick our way, whether it's that vulgar idea of 'a concept", focusing on producing 'the very best…' whatever (in London it's currently burgers), showcasing 'local' and 'foraged' ingredients, or some other gambit that sets them apart. Diners are looking for something particular nowadays, while a raft of chefs and restaurants are attempting to supply to that demand.
Proof that Michelin have changed in recent years, whether you see it as culinary progression or the crumbling of the famed French almanac, is evident in Hong Kong and at Tim Ho Wan, the one-star Chinese bolt-hole in the Mong Kok district. But from the outside it could fit the mould of any nondescript dim sum canteen.
There's nothing that sets Tim Ho Wan as important or special. It's a wonder Michelin inspectors even found it. I know I'm in the right place because of the swell of hungry people gathering outside, it's free advertising. Some seventy-plus rumbling bellies must have filled the busy street, lining up like the opening of a new Russell Norman bacaro.
I wait because I can. Others give up hope. I'm not overly peckish but I don't need to hurry back to the office. I peer over the curious little heads and see through the steamed window: finger-pinched dumplings, spring rolls and fluffy pork buns (cha siu bao) – the ultimate Asian comfort food. It's no wonder punters flock here. But it's not simply the quality of food, it's the price too. Tim Ho Wan is cheap. Dirt cheap. It's the cheapest Michelin restaurant in the world.
After an hour-and-a-half standing in the Hong Kong noise and pollution, I'm in. With my ticket-stub in my hand, another seat number is called loudly in falsetto Cantonese. I know it's mine because of the envious faces that turn and stare at me, hard with jealousy. Hey, I've been here over an hour too, punks!
There are only twenty seats but I manage to squeeze in. The interior is basic, but clean. It's more canteen-classic than Michelin restaurant, grotesquely stark and simply decorated.
The restaurant opened in 2008 under the guidance of chef Mak Pui Gor, a former dim sum master at Hong Kong's Four Seasons Hotel. His experience at the hotel's three-star restaurant, Lung King Heen is evident, shining through in dishes such as 'rice chicken' and 'shrimp vermicelli'. And while the establishment's impecunious location and decoration is dubious, the standard of cooking is very good and way above many rudimentary dim sum hasheries.
Rice chicken is fresh and warm. The chicken is shredded, crunchy and streaks of fat melt in my mouth. It costs around HK$12.00 (£1.00). My pork bun and prawn dumplings with carrot and Chinese leaf are only HK$9.00, that's around 80p each. The soft, yielding texture of the bun (bao) was similar to that of a marshmallow, while the interior pork filling (cha siu) was tender and sweet, made from slow-roasted pork tenderloin. These small plates are £2.50/£3 back home. Here, they are pleasingly simple and served without pretension.
Vermicelli rolls stuffed with shrimp are HK$16.00 (£1.20) and are steamed cooked in the open kitchen. The texture is light and they easily soak-up the puddle of soy in the dish. Mung bean vermicelli is commonly used in Chinese cuisine, but I think this was rice vermicelli, as it turned white rather than translucent when cooked.
A pumpkin soup was thick and sweet, rather uncharacteristic of Chinese cuisine I thought, and I regret not ordering the 'tonic medlar & petal cake', which I only learnt about from a friend after I'd left.
Would I return to Tim Ho Wan? No. But then I don't think they expect me to. It's not that the dim sum is bad, it's expertly crafted in fact, but the Michelin star, recent media/blogger attention and general claustrophobic food scene in Hong Kong – not to mention the laborious queuing system – marks this as a one-stop, one-time culinary destination. A tick-off the list. And that is all.