Tom's Kitchen, Somerset House, Strand, London WC2R 1LA, 020 7845 464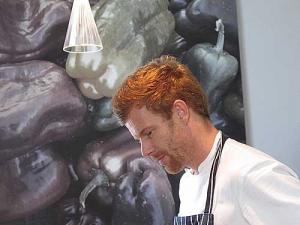 There's no doubting the décor's delightful at Tom's Kitchen at Somerset House. The 18th century Georgian extravaganza in neoclassical style has been home to royals through the ages. And now a Michelin-starred chef is claiming the tourist crown. Tom Aikens is bringing the same brasserie menu from his Chelsea restaurant to Grand Strand Land. His gaff replaces the prior Admiralty restaurant to which I have not been so cannot compare, although I have been ice skating in the central courtyard and that was awesome.
I didn't speak to Tom but in the press bumph he says this: 'Extending the Tom's Kitchen portfolio is a keen ambition for me and with such positive feedback from existing customers at Tom's Kitchen Chelsea and Tom's Terrace, launching Tom's Kitchen at Somerset House is the natural next step. Somerset House is a fantastic venue and I am looking forward to continuing to serve guests with first-class dishes made with the finest ingredients."
Anyhow, despite the lovely Georgian blues and leather banquettes, I did feel the room we were in was a bit of a thoroughfare, the bank of banquettes forming a walled corridor beyond which the fresh and friendly waiting staff breezed past.
They breezed back and brought us dinner. We started with a chicken liver and foie gras parfait with shallot chutney and brioche, which was beautifully balanced. The sweet bread- I don't mean THAT sweetbread -was sweet enough to counter the creamy pate, the chutney with its cutesy cornichons, was not too sweet to rage with the bread or anything else. Steak tartar with toasted sourdough, however, was lacking taste. In fact, the meat seemed to have had a bit of a taste transplant tonight. My Daylesford seven hour confit lamb with balsamic onions and mash promised Valhala but did not deliver. Though its texture was wonderful, the softest shreds imaginable, it tasted like the flavour had leeched out and had been reinjected – slightly odd. Others who've had it maintain it was good when they went, though. And the lozenge of mash was perfect in its firmness, I liked that.
The fish pie with salmon, cod and fresh herbs was wholesome and homey: I was suddenly stranded in Newfoundland, fishing nets floundering, bergs creaking, surviving on honesty. The truffle chips with parmesan are probably less Newfoundland. The chips in their hard fried coats and fluffed insides were perfect. The truffle, however, only happened on two chips, ditto parmesan. I don't think the excellent chips needed cheese here.
Puds, I had blackberry Eton mess with Chantilly cream which was giant and fine, messy as meant. We loved the cheeseboard with its Golden Cross and blue cheeses, a thoughtful selection. Tourists will enjoy Tom's Kitchen with its elegant décor and views down a terrace to the Thames. And the food, on the whole, is good. But it won't blow you away – which is not what he wants. He wants you to stay.