2021 Broadway, Kansas City, Missouri (www.towntopic.com)
In my last burger appraisal I stated that I do not "follow the meat philosophy of burger-masturbators…", but then I can't help it if I stumble across a place worthy of my approval. So, with that in mind, I begin to wax lyrical about Town-Topic in Kansas City.
Brace yourselves, for I have joined the Brotherhood of the Burger.
When Claude Sparks opened Town-Topic, a small, understated diner in downtown Kansas City in 1937, he sold hamburgers for 5 cents each. It's rumoured that at the end of his first day flogging patties to hungry Midwesterners, he pocketed $21.00, a significant wallop of burger-wonga in 1937.
It was in Missouri, at the 1904 St. Louis World's Fair, where the hamburger first gained national recognition, when the New York Tribune namelessly attributed the hamburger as, "the innovation of a food vendor on the pike."
As to who and where the hamburger was first created continues to be a perennial question. Texas state legislator, Betty Brown introduced a bill to codify the claim that "Fletch" Davis, an Athens, Texas, grill-man, created the burger and introduced it to the world at the 1904 Fair, while, according to Louis' Lunch website (a diner in New Haven, Connecticut), "One day in the year 1900, a man dashed into a small New Haven luncheonette and asked for a quick meal he could eat on the run. Louis Lassen, the establishment's owner, hurriedly sandwiched a broiled beef patty between two slices of bread, so the story goes, with America's first hamburger."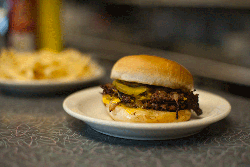 Whatever the truth, 108 years later and they're a US staple, as American as Mickey Mouse and school shootings. We live in a burger-encapsulated world.
Today, Town-Topic's menu remains dedicated to its burger output, offering single, double and triple hamburgers, alongside a ½ lb for fat bastards who can't get their carnivorous kicks from a triple.
Toppings are simple, the kind of ingredients hamburgers should include: slices of cheese, crunchy lettuce, juicy sliced tomatoes and strands of sweet onion, and not what brainless nincompoops ask for: pineapple, jam, wet pickles and poncified cheeses no one has ever heard of from a small village in Lourdes in the South of France.
The remainder of the menu boasts an array of vintage diner fulfilments, such as patty melt on rye, hot dogs, chili dogs and breaded pork tenderloin. There are bowls of handmade chili and sides of French fries, onion rings and tater tots, those bite-size morsels I tried to escape at school. A blackboard is graffitied with colourful chalks listing the days' pies. They're all delicious, archetypical American pastry creations: Apple, Banana, Coconut, Chocolate, Peanut butter, Cherry, Lemon, Butterscotch, Pineapple, Key lime, Pecan.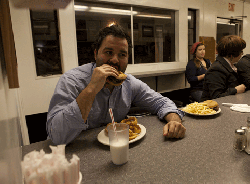 The breakfast list is extensive with the kind of sickly stomach-twisters Americans are so good at producing: 'cinnamon rolls with heated butter' ($2.25) and 'toast & jelly' ($1.50). I guess that's jam, really. "Jelly" just sounds more child-friendly, more playful and suitable with toast – actually, it doesn't. Traditional breakfast-benders include 'The Truckshop Omelette' (4 eggs, hash-browns, meat & cheese scrambled), 'The "Broadway"' (bacon, sausage, ham and extra cheese) and 'Westside'(cheese and onion omelette with chili).
My triple cheeseburger ($5.95) had all the elements you'd expect from a burger institution. The soft, spongy bun is steamed to soften the bread before adding the three pattie wedges. It's front-heavy, with the broken-down-bouquet of boiled bovine and greasy-grill. Slices of cheese began to ooze from the sides as I squeezed down the bun. Thinly-sliced strands of onions bound themselves between hot, melted cheese. Eating this burger became a very private thing.
A side of onion rings ($2.95) arrived piled high, their brown, deep-fried coating protecting that onion band within. The coating was piping hot and crunchy, the onion inside, soft and sweet.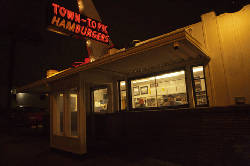 While famous American beverages are available: Coca-Cola, Cherry Coke, Root Beer and iced tea, I felt the need to wash my burger down with a glass of milk. There's something homely about knockin' back a glass of cold milk. A vision of childhood, a flashback to milk and cookies, except I'm an adult now. "Milk and triple cheeseburger – side of onion rings", sounds more marriageable at this stage in my life.
As I was finishing up my homage to the place everyone in Kansas City told me I'd find the best burger, a group of teenagers slumbered in, plonked themselves on the swivel counter stools and ordered five double cheeseburgers, four Cherry Cokes, a slice of pecan pie and another slice of key lime. This is America, I thought. Teenagers bonding over the great American pastime of ground beef, with a side slice of pie.