Royal cheesemonger Paxton & Whitfield have launched a new line of'retro' Pots of Cheese that come in two flavours – Cheddar Rarebit and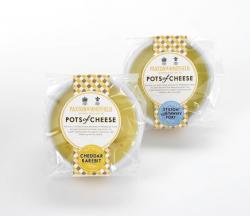 Stilton with Tawny Port.
Potted cheese has been a traditional way of serving and preserving cheese for hundreds of years. It is believed to have come about as a way for households to use up scraps of cheese to preserve their use. Traditionally made with territorial or blue cheese, it used a very simple list of ingredients; cheese, butter, alcohol and some seasoning. It was then sealed with clarified butter to preserve it.
Paxton & Whitfield's Pots of Cheese use a similar recipe but the main difference is that these potted cheeses use the finest examples of British artisan cheeses to make them.
Cheddar Rarebit (£5.95/125g) – Paxton's Cave-Aged Cheddar is blended with mustard and Paxton's No. 93 Ale.Stilton with Tawny Port (£6.50/125g) – Top grade Stilton is blended with Paxton's 10 Year Old Tawny Port.
The best way to eat these pots is with some crusty bread or crackers but they can also be enjoyed as a starter, a light lunch or spread over crostini for festive canapés. With a little imagination they can also be used to jazz up some old favourites jacket potatoes, used as a base for sauces or soufflés, stirred through pasta or a risotto, or used to stuff a chicken breast for added flavour. They come presented in a white ceramic jar that is reusable and is oven, microwave and dishwasher proof.
They are available from Paxton & Whitfield's three shops: Jermyn Street in London, Bath and Stratford upon Avon, as well as online at www.paxtonandwhitfield.co.uk.