302 St Paul's Road, London N1 2LH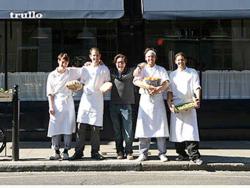 Hurray, Trullo! Some nine months after it opened, I have finally been! Brushing past it on my way to Highbury & Islington tube, this esteemed neighbourhood restaurant, in my own neighbourhood, has been rammed happy every time I pass. It's been impossible to book, I had to wait over a month for a two-hour window and that only at 7pm on a Monday evening but I pounced on it. This place is in high demand.
Trullo, as well documented, is run by head chef Tim Siadatan, who's worked at Moro and St John, director Jordan Frieda, formerly of the River Café, and manager Sam James. It's an understated exterior, painted glossy navy with net curtains shyly creeping up part of the windows. The inside is no-nonsense cream and navy with industrial lighting and white tablecloths. Wedged between a cobbler's shop and a fried chicken joint, in a locale that has been crying out for a more upmarket restaurant, its not unreasonable prices mirror those of nearby Upper Street but its food is more in keeping with that of the wester parts of London.
The food, you ask? The gaff? So, Trullo is a modern British/Italian place doing simple food with a smart, young and media-esque clientele within brisk, businesslike environs. The punters are mainly locals and regulars. The menu changes daily and is split into antipasti, primi, oven and charcoal grill with about three choices for each. They try to use as local ingredients as possible to the point where elderflowers are scooped off nearby Highbury Fields and infused through the panna cotta.
We started with Swiss chard, lemon, bottarga, boiled egg and pangrattato. The texture was varied and delicate, crunchy breadcrumbs and slicky greens taking the flash of fishy flavour from the bottarga, or mullet roe, which added complexity. I thought the dish a touch lost, though, perhaps too many anti-directional flavours.
Trullo's pasta, along with its charcoal grill, is one of its specialities and the chefs hand roll their own every day. My primi of pappardelle with beef shin ragu was excellent. As well as being a generous portion, the beef, which is cooked for eight hours in red wine, was deliciously soft and gluey, deep, rich and schlepped across the al dente ribbons in such a way as to keep the flavour even. We also had the whole lemon sole with purple sprouting broccoli, garlic and chilli, again, a big chappie, nicely pan-fried to yellow crisp with a creamy flesh and good salt. I was surprised at the amount of chilli in the broccoli, given the tenor of the food but it worked well, turning one of my least favourite vegetables into something quite homely.
I'd had the lamb rump with smashed peas and wet garlic sauce, the latter cheekily posing as mash. This traditional dish was technically faultless with a well-charcoaled rump yielding pink juicy flesh, but I'd overdosed on the beef earlier and couldn't take too much more meat. The skinny girl on the next table, who'd had exactly what I'd had, managed three courses in an hour, which brings me to one of the downsides – the time windows. Being so popular, the restaurant is booked months in advance, hence the slots but I can't bear them, being a slow eater. Just beware of them – it was heaven to hear that our 9pm table had cancelled and we could relax.
For puds, my caramel pannacotta was sublime – lots of jiggery pokery in the elasticity of the cream and hot caramel rump of the glaze. The chocolate and hazelnut tart was less eye-opening, my guest complaining of too many nuts, which is nuts, but he did already have a loose filling. We were drinking a 2009 Cantine Belisario Vigneti del Cerro Verdicchio di Matelica which put up a good fight against the robust meat flavours.
Manager Sam has grand plans for the place. When we visited, the downstairs was being reburbished into a bar area with alcoves where smaller dishes such as antipasti and primi can be served. It had a fab wet look floor that looks like a real cellar and the prospect is exciting for Highbury Corner whose night establishments are pretty eclectic. Will the extension diffuse the punters or bring more in? Given its sustained popularity, perhaps the latter, I'll be there, nose up against the windowpane.