23 Saint James's Street, London SW1A 1HA sakenohana.com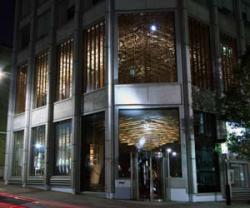 'That's a bargain!' is not something you hear uttered a lot in the vicinity of St James, but that's definitely what Umai Saturday lunch at Sake No Hana  is. And I say that as someone who's not content until he's haggled shopkeepers to within an inch of his life.
I had cynically assumed that at £37 for 5 courses per person, with sake, that this deal had to have a hole in it the size of Surrey. Perhaps teeny, tiny portions, slapdash plating and we'd be seated in a section of the restaurant signposted'cheapskate' but no, not a bit of it.
It's an odd place from the outside, resembling a 1970s car park in Croydon, but inside, once past the bar and reception and up the escalator, it all gets a lot more attractive as one expects from a Hakkasan joint. The ceilings go up and up and drapes filter the light lovingly to put diners into soft focus.
The restaurant used to be kaiseki – multi course cookery – and the Saturday Umai menu is in that style, please don't be in a hurry because this kind of dining is about slowly paced enjoyment. That said, our guests being half an hour late was a bit too slow for me, but crazed parking systems around St James were blamed and they were forgiven.
The deal is this. First everyone gets a bowl of white miso soup with wild mushrooms. This has all I want from miso, which has no consistent style or flavour being made in different ways all over Japan often varying with the seasons. It has umami though; the so-called fifth taste often attributed to the wicked makers of MSG but here derived from natural glutamates. It makes you want more and is addictive as crack.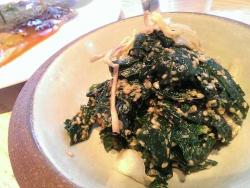 Next you can choose – sesame spinach with cassava chips and thinly sliced sea bass sashimi with chilli ponzu dressing, or seared rib eye beef with sesame dressing. As there were four of us, we had the lot.
The sesame spinach was simple and good but the sea bass sashimi stood out, with the smacking citrus of the ponzu and delicate spikes of chilli married to the delicate slices of fish.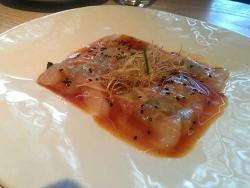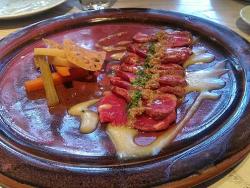 The beef didn't disappoint, it was as rare as a UKIP voter in Hampstead and definitely melted in the mouth.
Makis always make me smile; I like bite-sized food. A generous selection of tuna chu-toro, tobiko, cucumber; salmon, avocado and spicy salmon, white fish, avocado, cucumber, all varied in texture to keep interest up. And up to this point we'd been drinking sparkling, low alcohol sake which was well-suited to lunch being fresh and palate cleansing.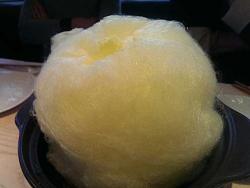 Sukiyaki with candyfloss has to be shared between two and it's cooked at table, it's a pot topped with a Ken Dodd hairdo of candyfloss.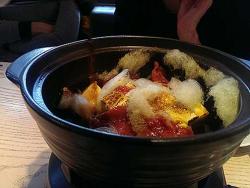 The waiter drizzles over the hot stock and the floss collapses with an almost audible sigh to settle around sliced rib eye beef with vegetables, tofu and mushrooms, it's then left to bubble for a bit while we try the other mains.
Char-grilled salmon on hoba leaf with teriyaki sauce is firm-fleshed but not dry and prawn and vegetable tempura with wasabi sauce are crisply perfect. We nibble soy stir fried green and white asparagus alongside and sip a more powerful sake.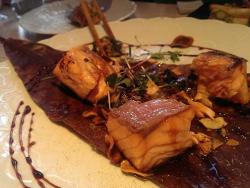 The beef done we dive in, it's sweet as would be expected, and darkly brothy. The slivers of meat still soft despite their simmering. It's interesting without being outstanding and I would have liked some plain rice to get at the more exciting stock.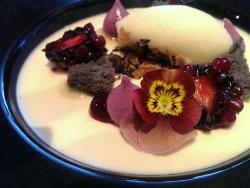 Desserts are extremely pretty, a miso tarte tatin is a gloriously sticky affair without the overload of sugar so present in the French version while another dish decked out with a pansy flower features sharp ice cream, sponge soaked in green tea and plump berries.
It took a few hours, but what better way to spend a Saturday lunchtime. I'll say it again, it's a bargain.
Like Japanese? Then you may like these.