31 Shad Thames, London SE1 2YR www.valentinafinefoods.com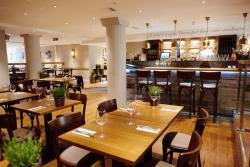 Tom finds enjoyment, but not excitement, at the confidently named Valentina Fine Foods…
"Our offices are based in the trendy area of Shoreditch, East London."
That's what the job ad had said, and so after a good interview and securing the position, I packed up my bags and moved to London.'Could this be the beginning of a new trendy me?' I thought. I could wear unexpectedly patterned clothing and listen to bands no one else had heard of. I could ride a bike with no brakes, delete all my music and buy it again but this time in vinyl. 
But the job wasn't in Shoreditch.
It was in Shadwell, Tower Hamlets, and so, although moving to this incredible city was one of the best things I have ever done, the trendy me never appeared. It did, however, mean that the first part of London I truly got to know was the area around Tower Bridge and the bottom of Brick Lane. A melting pot of tourism, Punjabi food and Daily Mail headlines.
I have long since changed job and now rarely find myself in that area and so I was really quite pleased to be invited along to Valentina Fine Foods recently, one of a group of seven deli/restaurants, tucked away on Shad Thames just south of Tower Bridge.
Entering off the narrow cobbled street me and my accomplice first found ourselves in a well stocked Italian delicatessen. Pastas, cheeses, cured meats; I was too hungry, I could look no more.
Luckily, it appeared the friendly staff had sensed my hunger and so it wasn't long after taking our seats in the gently busy restaurant that they presented us with a plate of olives, mini whole salame and chunks of Parmesan. The cheese was delicious; it was 24 month aged and provided the perfect balance of creaminess and bite.
Menus at Valentina Fine Foods won't be winning any awards for originality. Antipasta, Insalate, Pizza, pasta, secondi; there isn't much that will blow your mind. But then it was a Friday night after a long week at work. I didn't want my mind blown, I wanted it massaged, I wanted it comforted, and this was a menu that seemed only too happy to oblige.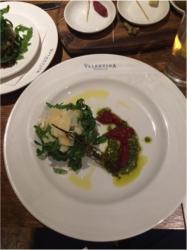 Starters perhaps could have stronger presentation, but my Beef Carpaccio delivered where it needed to. Well-portioned beef sat with rocket, parmesan and artichoke. Like a well-manufactured boy band they worked perfectly together, yet still stood out on their own. My accomplices Timballo (structured pile) of roasted vegetables did what it promised too.
Friday night is not a time for reading, and so instead of exploring the wine list we asked the waitress for a fresh, light bottle of white. The list itself was gigantic, split into the wine regions of Italy from Calabria to Lombardia. The wine she brought was perfect though, a Trebbiano a'Abruzzo at a sensible £16.45.
Main courses stole the show from the starters. My whole sea bass was cooked beautifully, nothing showy or pretentious, served with vine tomatoes and a side salad. My accomplices Casarecce pasta was rich and comforting; Tuscan sausage, baby spinach and mascarpone in a good ratio. Again, it didn't fight for attention; there were no fireworks or fancy presentation. Like one of those kids at school that never put their hand up but always came out with an A, it got the job done, but done quietly.
Desserts of chocolate Fondente and Panna Cotta along with a few shots of Limoncello rounded off the meal nicely, if not a little stereotypically, and with that, and a friendly goodbye from the ever-attentive staff, we stumbled off back to the bright lights of Tower Bridge.
Valentina Fine Foods aren't trying to set trends, or explode across twitter with #foodporn pictures, or force their way onto a Time Out list of some variety. They're just doing what they know, and on that Friday night they did it very well.
After something a little closer to home? There's a Welsh supper club on July 8th.
Or have a peek at how Alan got on in France's'Gastronomic City' Lyon.