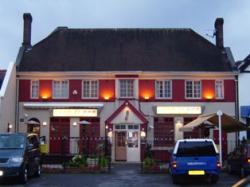 It's the end of the line, well at the end of one branch of the Northern Line that is. Having not previously been to Edgware my first impression was of its diversity of styles and cultures and quite broad busy roads. We had gone to Edgware to eat at Zan Zi Bar, whch is for want of a better description, an Indian 'gastropub'. Zan Zi Bar is set back from the pavement and despite its double fronted exterior it appears to be quite a modest establishment as you approach it. That all changes as you walk through the doors, two things strike you, the sheer vastness of the place and a warm inviting spicy smell. Decorated largely in creams with other coloured accents, it is a comfortable place in which to sit and enjoy an evening.
We ordered drinks straight away. There was an Indian Sauvignon Blanc (Sula vineyards) on the menu so that was a must: it was very fruity and had a good fresh tang to it, and at Just short of £19 per bottle was well priced. I tried a few of their range of bottled lagers during the evening. Our drinks arrived with the menu – which in itself was extensive but was augmented by a list of some eight or ten specials for July that had been selected just that day. Our waiter could see us cogitating, so offered some assistance, we took his advice on starters ordering two of the specials – the chicken tikka salad and kebabs tak a tak, alongside the fish tikka from the main menu and were pleased we had. The chicken tikka was lovely, tender chunks that had great spiciness with a little heat from their marinade, the salad on which it was sat had taken flavour from the grilled meat which we liked. The kebabs tak a tak were spicy minced lamb kebabs that were medium to hot as was the fish tikka, which was a substantial skewer of marinated cod chunks that had a good meaty texture from the marinating process. Each of these dishes left our mouths tingling from their spiciness and moderate heat, all three were very good.
For mains we chose the asli chicken curry (on the bone), karahi lamb, Punjabi chole, tarka dal, lemon rice and a laccha paratha. The chicken curry had a great fragrance from the whole spices used in its cooking; the curry sauce was lovely, a great consistency, this tomato based sauce had a nice medium hot spiciness. The lamb karahi was good sized chunks of the meat in very thick gravy, which had great depth of flavour; like the chicken it had a medium heat to it. This was another very good dish. The Punjabi chole, a spicy chick pea dish, had a fragrant flavour with a slight tang and the tarka dal had a good medium/thick consistency, with a garlic spice background, perhaps one of the best I have tasted. The laccha paratha, a butter layered nan, was indeed buttery, quite flaky in texture and was an ideal choice for scooping up sauces and the dal. The lemon rice was a wise choice, it had a very lemony taste, quite fresh and contrasting well with the intense flavours of the two meat mains. We thoroughly enjoyed all of these dishes. We had, of course over ordered so didn't quite finish, but were pleased with every dish we had chosen and were left with a lovely spicy tingly glow in our mouths.
Although not hungry after all our starters and mains, we were tempted by the suggestion of something cool and had the kulfi which had a good pistachio creaminess to it that cooled our mouths down perfectly.
After a Kingfisher I tried a Tusker lager that had a good fresh light flavour, which I thought went particularly well with our spicy feast. The range of wines on the Zan Zi Bar list start at just under £13, we have already commented on the Sauvignon Blanc. Service throughout our meal was helpful, courteous and attentive. All of the meat dishes on the menu at Zan Zi Bar are halal, and as well as the main menu they have a children's menu that has less spicy dishes on it. There is also a take away and home delivery service, we saw several orders going out while we were there, you should check their web site link above for details. The food at Zan Zi Bar is excellent, and worth going out of your way for, or maybe trying a take away or home delivery, we certainly enjoyed their food, beer and the Sauvignon Blanc.