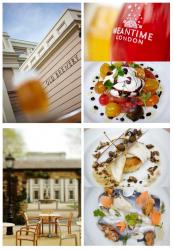 The Old Brewery in Greenwich is well and truly ready for summertime in the capital.
With hot days, sunny evenings and even those inevitable slightly cooler British nights in mind, The Old Brewery has introduced a brand new menu designed to make the most of the season.
All the new dishes on the menu come with a beer recommendation too. So you'll know which is the best pint to wash your food down with.
Light summer dishes include a Heritage tomato salad that uses heirloom breeds such as Black Russian, Cherokee Purple and Hillbilly combined with whipped goats' cheese, baby herbs and confit shallot dressing, which has been expertly matched to Meantime's refreshing Wheat beer, a light feast of banana and cloves.
Desserts on offer include the quirky sounding Meantime Raspberry Beer Jelly with summer fruits and vanilla cream.
During the day The Old Brewery is also offering a selection of food to take-away. All you need to do is pop in and pick up your food, then head off to your chosen spot for a little picnic.
On the take-away menu adults can look forward to gourmet sandwiches whilst kids can devour fuss-free versions as well as old favourites like pastries, chocolate chip cookies, juices and flapjacks.
If you're in and around Greenwich visiting any of it's many attractions this summer, now you know where to go when you're feeling peckish!