Among all the courses and activities for young people there are a growing number of cookery courses and schools for children popping up all over the UK. These courses are usually hands-on, a little bit messy and, crucially, lots of fun with cookery parties proving to be popular and offshoots running in schools, homes and village halls.

"Kids love the thrills and spills of the kitchen and enjoy sharing the knowledge that they bring back home," says Nick Wyke, founder of online cookery schools directory lookingtocook.co.uk.
"In my role of mapping the best cookery schools in the UK, I have been really surprised by the sheer volume of cookery classes and schools for children out there. There are hundreds now. They range in quality from overnight kitchen-sink set ups to sophisticated, well insured and established schools, so it's helpful to have a guide."
Joy Neal, founder of Munchkins Cooking for Kids and Blackheath Cooks cookery school, has been well positioned to watch this new trend. "When I started cooking with children almost seven years ago the Jamie Oliver effect really helped me. His school dinners' campaign was on TV and everyone was talking about it.
"Parents are cottoning on to the fact that if their kids are involved in the process of making food they will be more likely to eat it. But they don't want the mess at home.
'This morning I've been making sushi with three and four-year-olds and they love it. Not every kid wants to go to football or drama camp for a week. We've seen a big increase in interest for family cookery courses, which provide a meaningful bonding experience."
Beverley Glock, director of Splat Cooking in South-East England, agrees: "Cookery courses for children have really exploded in the past five to ten years," she says. "It's partly because of the dearth of hands-on practical experience available in schools and partly because lots of young people are watching programmes like Junior MasterChef and aspiring to be the next Jamie or Heston Blumenthal. Children want to learn about food and how to cook it and they're capable of much more than just fairy cakes. In fact, we've just launched classes in molecular gastronomy and kitchen science for kids."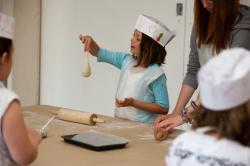 Good Cook School, Bristol
Teacher and enthusiastic cook, Sophie Fox runs the Good Cook School in Bristol and aims to bring the magic and communal spirit of mealtime preparation she experienced as a child to her classes, which range from courses for toddlers through to school leavers, holiday workshops and special events for schools. They acknowledge that teaching children of all ages how to cook healthy, wholesome food – that they actually want to eat – is any mother's aim and tackle this challenge through things such as their Pack Lunch Workshops.
Holiday courses are, generally, £20 per child and cooking parties start at £200 for a group of eight kids.
The Cook Academy, Alresford, near Winchester
The Cook Academy claims to be Hampshire's leading cookery school and was set up in 2005 by former Leiths School tutor, Kate Hughes. It promises a 'relaxed, non-threatening environment" for kids – so no Ramsay-style badgering and cussing! – in which to learn some impressive culinary skills with the basic workshop template being one savoury and one sweet dish, which each child takes home. Regular workshops are running from now until the end of the year for 7 – 11 year-olds at a cost of £25 for one, going up to £75 for after-school bookings. Teenage workshops are just as frequent, available for 12-16 year olds and cost £40. All classes last two and a half hours.
Splat Cooking, Home Counties, London, Wiltshire and Gloucestershire
The superbly-named, Splat Cooking website is choc-a-bloc with ideas and events for children's cookery from Saturday Morning Children's Cookery Club for 5-11 year-olds (£75 for a month) to cooking parties for kids and teens (ranging from £3 – £30). Many of the courses are run by children's food expert Beverley Glock from her farmhouse kitchen in Princes Risborough, Bucks. There is also the opportunity to subscribe, on an annual or monthly basis, to children's cookery programmes which are sent directly to your home and include online video demonstrations, so the learning never stops! Contact Beverley via the website about various UK locations and bespoke events.
Je Cook, Redhill, Surrey
At La Kids Party events you supply the venue and Je Cook supplies the fun, food and French lessons! Your kids will learn to say Bon Appetit! as they prepare healthy meals with fresh ingredients, agreed by the parents and organisers in advance, and then leave with party bags in hand and smiles all round. Et voila! Events start at £195 for a group of 12 children and transport is included in the price for any location within 15 miles of Redhill.
Cookies Kitchen, Kent, Sussex and Surrey
Cookies Kitchen offers an extensive range of courses for children from summer workshops to ad-hoc sessions at local schools as well as cookery parties for up to 20 kids. Cookery clubs are divided into Mini Cookies for children aged 3+,Junior Cookies for 5-11 year olds and Creative Cooks for 11-16 year-olds and include outings to local farms and food producers. The tuition emphasises essential skills, appreciation of ingredients, nutrition and balanced meals with a range of interesting recipes from spicy chicken fajitas to Caribbean chicken pasta and individually created dishes. Prices vary but there are concessions for members.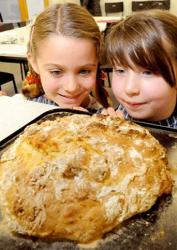 Little Augill Cooks Children's Cook School, Cumbria
The fairytale setting of Augill Castle in the Lake District is perfect for a family retreat and compelling for children learning about the true provenance of food by way of farm visits and kitchen garden tours. Mostly though, they'll get to cook and enjoy the results as a group giving parents an opportunity to have a well earned rest. Courses are £45 per child per day but bespoke courses can be arranged including the opportunity for parents and children to cook together, meaning mealtimes will never be the same again!
Kiddy Cook, nationwide
Held in the North West, Midlands, east Anglia and London, classes, workshops and parties aim to create the Michelin-starred chefs of tomorrow by teaching children of four and above how to 'explore their senses and express their creativity" through the technical know-how of cookery. This covers skills such as weighing and measuring ingredients and making their own butter. At experimental cooking parties budding cheffettes produce gems such as edible jewellery and learn how sound can effect our ability to eat. Private home sessions are also available. Contact www.kiddycook.co.uk/schools directly to book.
The Fun Food Academy, North London and Chichester
The Fun Food Academy was established in 1998 and has since cooked with more than 2,000 4-11 year olds in and around London. As the name suggests, culinary thrills and spills include games and taste tests, two-hour cooking parties with foodie magic tricks and primary school sessions on themes such as the Ancient Greeks, Victorians, Aztecs and Egyptians. Workshops are an impressive six hours long and offer good value at between £20 – £25 per child.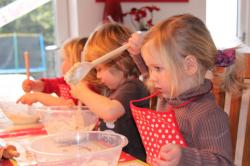 Munchkins Kids Cooking, Blackheath, London
Munchkins Kids Cooking offer summer holiday workshops for kids age 4-11, inviting children to have fun and make a mess! With appealing titles such as 'Food from the stories of Roald Dahl' and 'Cooking the Rainbow', classes are themed over the course of a week but individual days can be bought separately. Held at the brand new Blackheath Cooks shop and school, there are additional after-school classes for teens and 'munchkins', which are all very hands-on and offer technical tuition in the making of sushi rolls and lamb koftas. Also on offer are cookery workshops held at primary and secondary schools across London and the South East.
After school clubs are £190 and Summer Holiday workshops are £42 per day.
My Little Kitchen Cookery School, County Derry
This is the only cookery school in the North-West of Northern Ireland and is run on a secluded farm in Greysteel by husband and wife team Phillip and Nuala Ford. This relaxed and friendly setting is the perfect place for aspiring 6-13 year-old chefs to don their whites and whip up a summer feast, 'whilst meeting new friends and having lots of FUN!" Courses cost £60 per child and comprise four two-and-a-half hour classes covering pizza and pasta, baking and desserts, healthy snacks and light meals and main meals.
For more children's courses nationwide visit Looking to Cook's children's cookery classes listings