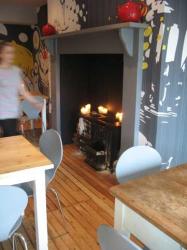 It was one of those balmy, sun-splitting-the-sky evenings that we don't get quite enough of in Scotland and it was the day that Zara and Mike got hitched so Edinburgh was buzzing with 'royal fever' and well, everyone was in a good mood. But me and my deeply discerning dining companion were headed for Hamilton's Bar and Kitchen in Stockbridge and looking for another kind of fever. Their website promises a lot – it's quirky, it's fun, it's all about having a great experience whether you are passing through for a couple of cocktails (more on these later!), a leisurely beer whilst catching up on your Facebook updates or spending the evening drinking, dining and generally having a damned good time. This place lives up to the promise.
First impressions are so important. When you walk in the door of Hamilton's you get that kind of 'I like this place and I'll be coming back" sort or feeling – it is immediately welcoming. It's hard to put your finger on just why it works – pop art meets comfy couches meets easy living meets buzzing and busy bar – but it does. Charlie and his staff are fun, attentive, enthusiastic and were eager to give us the low-down on the cocktail list, the wine list, the menu and I suspect had we planned to spend the rest of the evening in Edinburgh they would have veered us towards the best places in town to party. Next time perhaps! But onto the food.
We didn't get an opportunity to meet the kitchen gurus but he/she/they are our new heroes on the fish cake front. They can be so soggy, overly-potatoey and disappointing. Not this time. These are possibly the best fish cakes we have ever had the good fortune to happenupon. Chunks of moist fish, fresh leeks, a wee zing of diced chillies and a crisp but not forkunfriendly outer blanket, served with a little pot of aioli and a lightly dressed mixed salad.
The Hamilton's Fish Stew, which is a main course but asking for a starter portion presented no problems, rendered us silent for at least three minutes. King prawns, plump mussels, salmon, deeply rich and delicious tomato sauce and the addition of smoked fish and deep fried crispy kale – inspired. The home-baked local bread to mop up the sauce made it an experience worth repeating but next time it will be a main course portion all to myself let me tell you.
The Organic chicken breast with black pudding, Jersey Royals, fresh lemon, sun blush tomatoes and watercress came next and was a visual delight (with my nutritional hat on I love to see a colourful plate of food; all those health-giving nutrients vying for attention!) The chicken was oh so succulent, the black pudding spicy and robust, the Jersey Royals small and sweet, the tomatoes densely rich and a good-sized portion too. A winner of a dish.
The Crispy Scottish Lamb with warm sauteed potato and green bean salad and fresh mint vinaigrette offered the same colourful melange. Now, if you like a bit of crispy skin and some unctuous fat on your lamb, as I do, you are in for a treat but if, like my dining chum you run a mile (good nutritional decision by the way!) it's not for you. By the time she removed the skin and the fat there wasn't much lamb left. The star here was definitely the fresh mint vinaigrette which was drizzled artfully and generously about the dish and perfectly complemented the lamb, salad and potatoes with their crunchy coats.
We were having a good time. Hamilton's culinary philosophy is driven by a desire to please using organic, fair trade and local suppliers and their promise of offering 'good, honest dishes made with quality ingredients where the person cooking them loves food and doesn't take themselves too seriously" was being delivered in spades.
And for dessert? Despite the blackboard offering a tempting selection of sweet goodies, the cheeses from the 'never let you down' Ian Mellis and the difficult to resist encouragement of the staff we could only manage a selection of the homemade ice creams. Apple & Cinnamon (refreshing or what?), Vanilla (creamy and splendid) and Strawberry & Lemon (a fabulous combo).
'More cocktails?" Charlie asked. 'Think not if we are to somehow get back to Glasgow in one piece" we responded. We had already enjoyed a Pineapple Express (fruity but slightly bitter and perfect for a summer's evening) and a Champagne Rickey (girlie and glamorous) as we sat drinking in the atmosphere prior to feeding our faces.
It is very easy to be seduced by this place – it's got a lot going for it and the prospect of whiling away a few hours sipping cocktails, grazing on a few shared plates and not bothering to catch the last train home is the way we are going to play it next time – join us! We are also determined to visit Treacle Bar and Kitchen, their sister/brother restaurant, 39-41 Broughton Street which I instinctively know will offer a similarly-repeatable experience.