An intricately designed bottle sits before me, its too pretty to open but like the cat, I am curious as to how chamomile, with its sleep inducing properties, can be infused into a spirit and create a premium gin.
I am pleasantly surprised as my first sip goes down well with the sweet subtlety of chamomile and honeysuckle complimented by the final citrus kick of Pomelo. With its floral notes and citrussy tones it is no wonder that Bloom is fast becoming a favourite amongst those who appreciate a sweeter, more delicate flavour.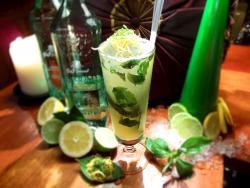 Such a flavour has been crafted to perfection by the worlds only known female gin Master Distiller, Joanne Moore.
'I always loved the smell and soothing qualities of chamomile and knew it would compliment the traditional notes of a good quality gin. I draw inspiration from my daily life – relaxing with chamomile tea and envisaging an English country garden. I hope white spirit lovers around the world will enjoy BLOOM Gin and its natural aromas and flavours."
The natural botanicals of chamomile, pomelo and honeysuckle, give Bloom Gin its soft, floral notes and feminine appeal thus introducing women who may not be traditional gin drinkers, into the world of gin.
Why not try a Bloom Cocktail?
Full Bloom
Glass: Collins
Garnish: Physalis (cape gooseberry)
Method: Shake all ingredients with ice and strain into an ice filled glass
2 shots Bloom gin
2½ shots Freshly squeezed pink grapefruit juice
¼ shot Crème de violet liqueur
¼ shot Luxardo maraschino liqueur
½ shot St-Germain elderflower liqueur
1 spoon Honey syrup (3 honey to 2 water)
For more recipes log onto Facebook, and follow Bloom on twitter @BLOOMGin for the latest BLOOM Gin news, events, cocktails and much more
BLOOM Premium London Dry Gin is stocked in London Waitrose stores, Booths, served in top premium London bars and also available to buy online at an RRP of £24.99 (inc P & P)