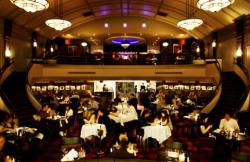 You may think the Times Cheltenham Literature Festival is all about food for thought, but Kate Townsend fids plenty more visceral things to chew on.
"One cannot think well, love well, sleep well, if one has not dined well."  So said Virginia Woolf, and who am I to argue? If I were feeling particularly daring though, I might add one more thing to her list. Reading well also requires appropriate nourishment, making  food a particularly important part of enjoying the 2012 Times Cheltenham Literature Festival.
Until the 14th of October this year, the Regency Town becomes the backdrop for all manner of cultural shenanigans both highbrow (150 years of Modern Art) and the rather more quirky (Fifty Shades of Blue).
It's a gleeful opportunity for residents and visitors alike to play a range of games from spot-the-famous-person, to guess what book Nigella Lawson has out this year. But my personal  favourite is one I like to call'choose a restaurant or café to sit in and adopt the appropriate literary pose.' (The name is a work in progress… what it lacks in catchiness it makes up for with clarity of description…)
Because really successful literary posturing, the kind in which you imagine yourself advising JK Rowling about plotlines in her new novel now she's finally managed to ditch that precocious young wizard, requires an appropriate back drop. Ideally one in which you can indulge in some delicious food alongside the cultural feasting. 
Luckily, Cheltenham has a plethora of locations to suit the literary and gastronomic connoisseur alike. Here are some of the best places to work that literary atmosphere and enjoy fabulous food during festival week:
For sheer scale and immersion in  glorious 1920s fantasy, there is nowhere that can really match the Daffodil. Housed in a building that began life as an art deco cinema, complete with sweeping staircases and balcony bar, don't be surprised if you find yourself tapping your imaginary cigarette holder on the table and calling your dinner companions'daaahling' far too much.  The food combines high end cooking with a subtle vein of traditionalism; local steaks oozing flavor and their own rosy juices feature heavily alongside unctuous British cheeses and plenty of fresh fish and seafood. It's the perfect venue for imagining Agatha Christie style intrigue, as the lights dim and a buzz of intimate conversation settles over the dining room like a glamorous cloud. Just remember, the odds are that the tall, distinguished gentlemen at the table next to you probably hasn't murdered his wife, and is thus unlikely to appreciate your penetrating Poirot style interrogation…
If the heady atmosphere of the roaring twenties gets a little too much for you, you might appreciate some literary time travelling to a more well- mannered genre.  At the Well Walk tea room you can straighten your bonnet, extend your little finger and engage in some veiled witticisms alongside a startling array of teas and home-made cakes. You could be forgiven for imagining that everything that stands still for long enough at the Well Walk gets covered with a doily or cloth of some description; the walls are bedecked with tapestries and chintz and the tables huddle together like a herd of over-anxious sheep. But there's no doubting the fact the Mrs Austen's'women of a certain age' would be more than comfortable here, indulging in some social climbing and polite conversation in amongst the Regency eclecticism. The scones are a particular treat fit for even Mrs Bennet's frazzled nerves, soothingly bland and light as air. Before you leave, pop downstairs and forwards in a time to see the Christmas shop that helped provide decorations for Downton Abbey's Christmas episodes.
Well Walk tea room is very much a venue for fictional imaginings, for flouncy dresses, romantic misunderstandings and happy endings. By contrast, the tiny, rustic, basement rooms of Bistro Coco with their exposed brick walls and flagstone floors, were made for sterner debate. This unapologetic little gem of French cookery and values is the perfect place to retire to after philosophy day, to argue the finer points of Mills versus Bentham, or the power of ideas in the modern world. You might even impassion the debate with a bottle of full-blooded merlot; no supermarket wines marked up in price to be found here. The menu, written on blackboards, is in French and features all the classics from buttery escargots to crepes aux champignons, bubbling with savoury cream. It's unpretentious and well balanced, which means your debate can be anything but!
It is worth noting of course, that as well as these permanent temples to fine food and literary atmosphere, the festival brings with it more transient foodie experiences. The Spiegeltent for example, offering everything from jazz and cocktails to Sunday lunch, springs up at the beginning of the festival like some kind of magical circus. And throughout the week, there are events to suit gastronomes of all varieties; I'm particularly keen on hanging out with the Thinking Drinkers but you can also explore the history of the domestic kitchen or let Giles Coren teach you How to Eat Out.
The bottom line is that great food, like great literature, requires imagination. For this reason, the two are splendid dining companions. Throughout history all kinds of novels, philosophies, poems and biographies have been planned, discussed, drafted and digested in cafes, bistros and restaurants. And it's a tradition that's well worth continuing.
 See you at the cider tasting!