For an international, cosmopolitan city, you don't hear very much about Mauritian food in London. In fact, the last time I recall hearing or learning about the spicy, sweet, tropical fare from this Island paradise marooned in the Indian ocean was a couple of years ago on Masterchef, when Greg Wallace was going nuts for golden girl Shelina Permalloo's alphonso mangoes.
But recently I was introduced to someone who's determined to promote the food of her heritage and her heart, one dish, one cookery class and one devotee to her delicious recipes at a time: Selina Periampillai.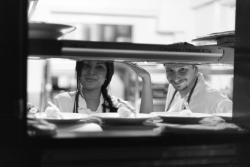 Selina Periampillai is a British-born Mauritian food pioneer; a passionate self-taught chef and food writer, who specialises in the exotic and tantalising flavours of Mauritian cuisine and who manages to find time to stage pop-up restaurant events in between teaching the masses what real Mauritian cuisine really tastes like.
As I ran into Four O Nine in Clapham for Selina's sell-out, pop-up, six-course menu event, my head wrapped against the rain by a makeshift newspaper hat, I was praying for sunshine, or at least some food capable of transporting me somewhere a little warmer and more clement than rainy London.
Four O Nine, which almost feels like an underground nightclub with its dim to the point of blindness lighting and oddly precarious bird's nest setting, was a good start. All exposed bricks, intimate seating and raised, stagey bar; it felt strangely more like North Cuba than it did Clapham North.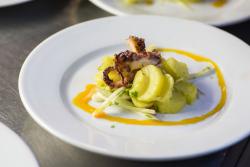 So far so good and, after the plates started being whisked out from the tiny kitchen to the packed crowd, it just kept getting better. There's something incredibly admirable about a chef who can prepare, cook and plate up about 60 plates of near-on identical food in quick succession while still having the time to pop out of the kitchen – breathless and slightly flushed – to tell the diners exactly what they're eating. It's an even rarer chef that can mass make 60 plates of perfectly cooked octopus, for which Selina quickly became my food hero.
The octopus in question was came in a few tender pieces, muddled together with an Ourite salad of potatoes, shredded cabbage and a sauce so fruity and vibrant it practically exploded on oral impact. It was proceeded by a delicate dish of aubergine fritters with a satini – a flash of green, coriander chutney that was fresh and vibrant and stonkingly, deceptively fiery. In short, this food is unlike anything I'd ever tasted before.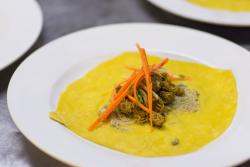 But, as good as the octopus and as surprising as the satini was, the real highlights of this lavish six-courser were the mains: a crepey coconut flavoured dhall puri filled with a curiously dry mix of slow cooked, six-hour creole lamb; an astonishingly deeply flavoured, terribly moreish, impossibly rich bowl of meaty fish curry called vindaye with  sweet pickled red onion and a mild, buttery dish of chicken curry with a dome of fluffy rice.
So, if this is Mauritian food then it begs the question, why the hell aren't we eating more of it?
I managed to collar Selina, straight from the kitchen and still beaming, for a quick chat about her food influences and to find out where all the Mauritian restaurants are (and just what the hell was in that fish curry dish.)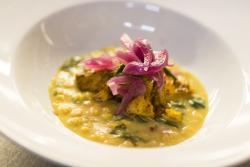 We all fell in love with the fish, what sort of fish is it?
It's a fish called trevally and it's a really tropical fish and one that my mum always used to make vindaye because when you fry it initially it stays in shape without flaking away; it's really meaty. Although you could do a vindaye with tuna as well, it's just following the process of pickling it first in mustard seeds and turmeric.
We made our vindaye a few days ago so it's had time to soak it the flavours. Mauritians sometimes even use that as a sandwich filler and just put it in a baguette and take it to the beach. It's basically their version of cheese and pickle!
Tell me where the inspiration for the menu came from
The starters we had are really typical of what you'd find on the street over there sold in brown paper bags with the chutney thrown in. The Mauritian Ourite salad is like our family meal, you find that a lot because seafood is in abundance in the islands so everyone eats a lot of octopus, shrimp and lobster. The prawns here are so small in comparison.
The lamb is something I came up with. I wanted to update the classic dish and I thought the pulled lamb would make a great filling with the dhall puri because, traditionally, a dhall puri comes with a veggie butter bean curry.
The chicken curry is totally traditional, it's just the way my mum made it. My mum and dad both cook. I've just grown up around huge gatherings with lots of food.
None of the dishes were overly spicy, is that common?
The food that I grew up on was never really spicy, my mum and dad would always have their pickled bullet chillies on the side. I didn't dumb the menu down for western palates, you just have to find that medium balance. 
Deserts always seem to be a sticking point with Asian cuisine. How did you come up with the pudding of pineapple carpaccio with chilli and coconut sorbet?
That's something I made up really. You get flambee banana or pineapple with rum but I wanted to do something different. I put the pineapple in a bag with chilli salt and that's how they do it in Mauritius. On the beaches you'll just see bags of salted pineapple. I put a lot of coconut on the menu too – it's just showing off the flavours we have at home.
Have you met any other chefs in London working with Mauritian food?
Not a lot. Everyone always asks me to recommend places and it's really difficult because there aren't a lot of restaurants or cafes that specialise in it. That's why I wanted to get it out there.
Where do you get your ingredients from?
I'm from Croydon so I get a lot of things from local farmer's markets and my local butchers. The fish you can get from a fishmongers. It's not difficult to find, it's just that people don't know about it – you just have to ask. Some of the other ingredients I get from Caribbean and Asian supermarkets, but the curry powder comes from Mauritius.
My dad has just come back today from Mauritius so I told him to stuff his suitcases with rum, vanilla and dry roasted curry powder. The vanilla is incredible. They use this really fat, juicy bourbon vanilla and it's so cheap compared to buying it over here.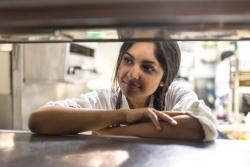 What's next for you?
I'm just going to keep doing more, more cookery classes and more popups!
Find out what Mauritian food is all about with one of Selina's pop-ups or cooking classes. For more information or to find dates and locations, see her website, Taste Mauritius.  
All images © and property of Giulia Mule