In preparation for Tequila Fest 2014, Nik Speller ventured as far as Dalston to sample the Mexican way of drinking, eating and sharing endless plates of delicious food.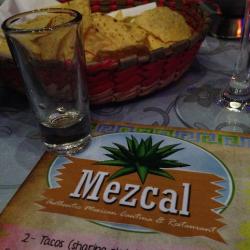 What's more Mexican than a sombrero, a poncho, a cactus and a moustache? A lot of things. An entire nation, probably the size of Europe (things often are), isn't going to be summed up by one grossly overused stereotype.
What's more Mexican than a small restaurant on the Kingsland Road in Dalston? Surprisingly, not a lot.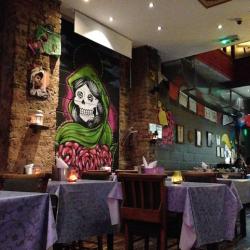 Okay, walking into Mezcal Cantina is like stepping into the physical embodiment of *that* Mexican stereotype. Everything you expect to see and more adorns the walls – they even have a remote controlled shrine to the Virgin Mary. Honestly. It's loud, it's colourful, it's attractive from the street outside, has a cocktail list as long as your arm and for reasons he can't explain, the owner tells me that they attract a lot of parties at the weekend. Strange that.
I suppose it was sensible to get that fact in early: I was dining with the owner, Cesar Garibay, having been invited by his friends at London's upcoming Tequila Fest. Let's call this a feature then, not a review. It's hardly likely that the service was going to be poor with Cesar sat at the table, ordering dishes as if I were a man twice my weight. Maybe he thought I needed fattening up.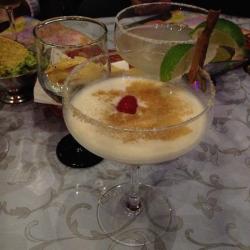 Continuing on the theme of fairness and transparency, Cesar did suggest we order near enough everything on the menu, so here's a man very confident in his kitchen's ability to produce food of a high quality.
Here was also a man passionate both Mexican cooking and tequila. On the latter, as expected, I received the same compassionate plea I hear from most Mexicans not to view their national drink as a shooter, to be chased down with lime and salt. Apparently, as with most'traditions', this method of drinking was devised as a marketing gimmick, invented to sell inferior tequila to Americans and help disguise it's poor taste.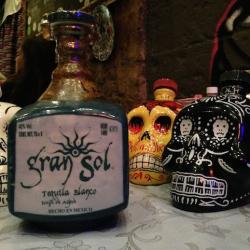 Of course, we had to begin with a drink of tequila – a slow sip of Sangre Azteca's Reposado – and some tortillas, with fresh guacamole: the real stuff (not a puree), with large chunks of avocado and strands of diced chilli.
I'm always surprised just how much I like tequila. It's a very light, slightly sweet drink and has a smoothness that you don't get from many spirits – definitely not from high street tequila, anyway. It also goes incredibly well in cocktails. Too well, in fact. Before long, the classic margarita in my right-hand had vanished and I had to display an incredible degree of self-restraint to prevent the margarita de horchata from following. It's an interesting cocktail this one. A concoction of tequila, triple sec, lime, sugar and white rice concentrate – a liquid main from straining water through rice. Imagine an alcoholic rice pudding – possibly the perfect dessert.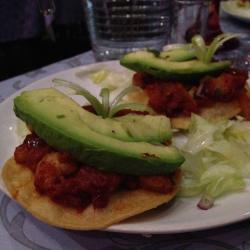 I could write a lot about the cocktails at Mezcal Cantina – it's a substantial list, with some interesting options – but that would starve the food of it's rightful word count. A firm favourite on Instagram (check those likes!), the prawn tostadas were in the words of hipster culture, epic. Small, unassuming rounds of deep-fried tortillas, covered in a mixture of beans, tomato, cream, cheese, peppers, prawns and finished with sliced avocado. The list of ingredients is larger than the dish, but this doesn't distract from the incredible taste and the impressively filling nature of the tostadas, especially when both have been consumed.
We followed the tostadas with a plate of mixed tacos, featuring all the meats of the rainbow. My firm favourite, the fish, was just the way you want it, a vehicle for the tang of lime, splash of chilli and dribble of salsa that warms the mouth. Then arrived the big guns – polo con mole and mixiote de cordero: that's chicken in a sauce that looks like molten chocolate (it's not) and a lamb shank, marinated in over 20 ingredients and steamed inside banana leaves.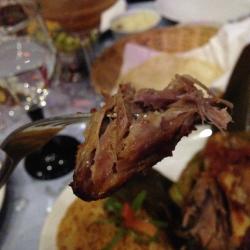 Think lamb shank and it's cold days, warm pubs and dripping wet Welsh hillsides. You're unlikely to think chilli, cactus and banana leaves, but perhaps you should. The essence of the dish is the same – a slow cooked piece of meat that falls from the bone – that flavours are radically different though. In some respects, this lamb is almost like a curry (the British-Indian kind), a deep earthy heat, rather than the immediate tongue burn of fresh chilli. As is classic for Central and South American food, the lamb arrives with three different carbs, which is slight overkill to say the least. I stuck mainly to the tortillas, wrapping a little rice and a fair chunk of meat inside each one.
The polo con mole is a sight to behold and one that doesn't photograph well in the slightest. The thigh and leg of a chicken are bathed in a mixture of dark bitter chillies, a host of other ingredients and a little chocolate to sweeten the mix. It's spine-tinglingly good to take a juicy piece of white chicken and lather it in as much sauce as you can. Again, the taste is an earthy one, with the hints of spice coming through at the very end.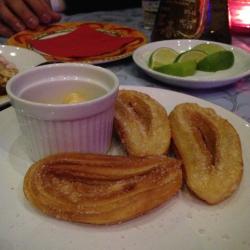 We finished finally with some churros. A light fresh batter, dipped in an almost solid milk caramel. That, and another glass of tequila to wash it down, was a most satisfactory end to the meal. There was just enough time to take some shots of the interior and gather together a few of the more unusual bottles of tequila for a'photoshoot': a bottle of Gran Sol and the three skulls of the Kah brand.
Hopefully, all three of these tequilas will be making an appearance at the London Tequila Festival – 22nd to 23rd November, at the Grange Tower Bridge Hotel. If you miss the festival, and you really shouldn't, head to Mezcal Cantina early next year and indulge your Mexican side.
Nik visited Mezcal Cantina as a guest of Tequila Fest 2014: www.tequilafest.co.uk