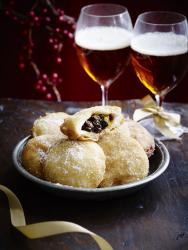 There's a Beer For That is aiming to get people thinking differently about beer.Focussing on three core messages – quality, diversity and versatility – the campaign is driving awareness and understanding of the wide range of styles and flavours of beers available in the UK today.
Through our beer themed Christmas recipes, There's a Beer For That is providing a fresh new twist to the festive table this Christmas, along with the perfect beer pairing suggestion.
Ingredients:
(Makes 10)
8-10 tsp mincemeat
8 slices of thick sliced white bread (crusts removed)
A little spreading butter
4 tbsp caster sugar
100g self raising flour (sifted)
150ml ale
Vegetable oil for deep fat frying
Method:
Spread one side of bread with a fine layer of butter. Spoon 1 tsp mincemeat into the centre of the buttered bread.
Take a second buttered slice, press and seal the two slices together. Cut the bread with a star or round cutter and chill for 30 minutes.
Make the batter by mixing the sugar and flour together. Whisk in the ale until the batter becomes thick.
Heat the vegetable oil (5 cm deep) to 180°C (350°F)
Dip the chilled bread shapes into the batter and fry until golden brown on both sides.
Once cooked, drain the doughnuts on crumpled kitchen roll. Dust with sugar before serving.
Beer pairing suggestion:  
St. Austell Smugglers Vintage Ale