Madame Zingara's is an exciting, bohemian circus experience and one with fine dining to accompany the cabaret. Nick Harman went backstage to see how the kitchen pulls off a major meal every night. Photos Al Stuart

Outside in the restaurant a ten foot tall satyr is lasciviously stomping around between tables while a man in a woman's wig, and with a full beard, is roller skating up and down. Louche lounge music is playing, the mirrors on walls are sparkling and courtesans are languidly lounging on sofas. Meanwhile in the massive kitchen a five foot nothing head chef is watching all her staff at once, any second now she will be overseeing the sending out the first of four courses all at the same time and for over two hundred and fifty people. Welcome to Madame Zingara's, the weirdest restaurant you'll ever eat in.
'We listen to the show, that's our cue, everything is done by the second, you don't have any time to spare, it has be precision timing and by listening we know exactly what stage the show is at and when to send the courses,' explains Head Chef Grethel to me, never for a second taking her gimlet eyes of a team of chefs plating up over two hundred mezzes plus soup. Hands behind her back like a Sergeant Major she's running a military operation back here, albeit one where the waiters come in to pick up dishes dressed as anything from pirates to Robin Hood – it's quite a surreal sight in a kitchen gleaming with stainless steel and lit by harsh white lamps, But then Madame ZIngara's is full of surprises.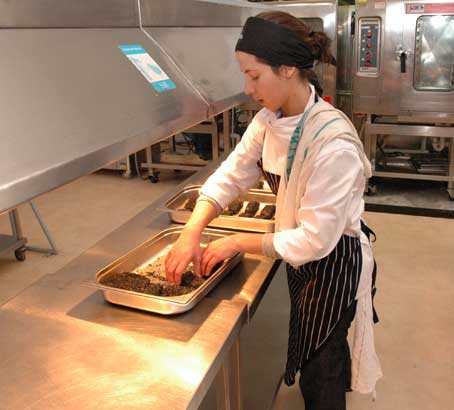 It's a unique dining experience. Born in South Africa the show and meal are housed in one of the last remaining Spiegeltents, a marvellous wood and canvas construction from the 1900's. Here a team of circus artists entertain anything up to 450 people seated in the round from where they can watch all kinds of aerial acts, strongman teams, contortionists and other baroque entertainment while they eat their fancy meal.
'The show starts sharp at 8pm', Grethel explains in her strong Seff Effrikan accent 'and we send out the pasta course after the first acts." As soon as people arrive and sit down with their welcome cocktails from the bar, their mezzes are served. It's the only course that isn't sent out all at once, although the 250 mezze of houmous, red peppers, green, and black olives, aubergine and pitta bread all need preplating and the glass of hot soup is only poured at the last moment. Is it the same menu every night? I ask 'Yes," she replies, 'it's the same outline; the mezze is always mezze but it changes if we go back to the same town again. The pasta course is changed once a month, the fish dish and the desserts we change too, the only dishes that stay the same are the chocolate chilli steak and the lamb shank."
This is the calm before the storm, the cooks able to stand reasonably idle by the great long prep tables, the only real noise that of the massive hot air machines thrusting warmth into the kitchen and the tent beyond. This side of the blackout curtain is all tense preparation, while the other side is a dreamland of low lights, Liz Fraser's ethereal voice, flickering candles and drifting dry ice as the guests start to fill the tent with a sense of anticipation that is high.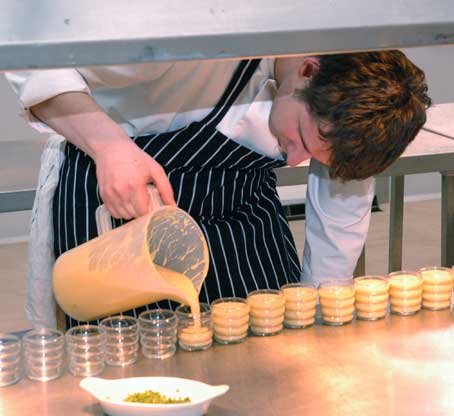 I'm personally busy trying to stay out of the way; everywhere I stand seems to be a major route. Even so I can't resist poking about the kitchen looking at great trays of mushroom ravioli being stacked in racks ready for their moment to go into the massive steam ovens lining the rear of the Porta Kitchen, their exhaust pipes snaking up and out the roof like parts of some giant spaceship in a Ridley Scott movie. 'We make the ravioli fresh during the day,' Grethel explains as she passes with her arms full of trays, 'then all it needs is twenty minutes in the steamers to be ready to go"
Outside in the tent, the show has kicked off with a show of strength by two remarkably muscled creatures who have muscles on their muscles, then as the mezze are polished off out comes a trapeze/rope act and then some ladies, and they say so themselves, of quite massive size, The Three Tons of Fun who come out with their lead singer Stella to sing 'Let's get this party started' and the roof starts to lift off the tent with the energy now on show,
In the kitchen the long steel tables are all covered in plates of perfect pasta, the special lights beating down on them keeping them hot. All the waiters and waitresses in their carnival costumes are now lined up ready to go on command and Grethel is behind the actual serving pass. On command, the waiters flow forward and the controller calls out table numbers. They grab their plates and flow out only to circle back a few minutes later like planes at an airfield to pick up their next batch. It's a constant blur of motion that ensures that within moments every guest has his or her plate of tasty pasta with blue cheese sauce, watercress and rocket salad all topped with chopped walnuts in front of them.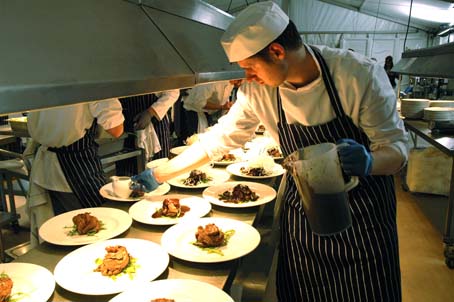 No time for a rest though, the mains, which are the only course where there's a choice of dishes, are being got ready. 'We go through about 69kg of Angus Fillet steak a day, from Chadwicks in Balham, which can be a challenge for them sometimes, it's a lot of steak to supply !" Grethel laughs. 'Its fillet too which makes it an expensive dish, especially here, steak is much more expensive here than in South Africa."
It's not a dish to mess with, as the Chocolate Chili steak is the owner's original signature dish, the one he was famous for, before his original restaurant burnt down in South Africa and set in motion the touring tent idea. Grethel had only been in the job of head chef a few months before the fire occurred.
'I went to chef school in SA and got a diploma,"she explains and I was into 'normal' restaurants, I went into hotels once or twice because I thought I could do with a change but it didn't like it. I took a job at the original restaurant but then it burnt down, so then we started with the tent and I took over from the previous head chef and here I am!'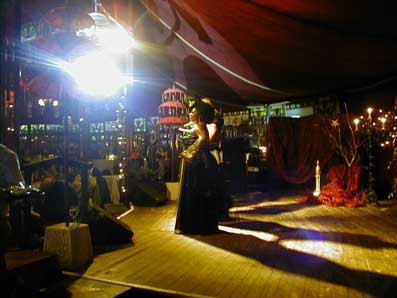 She likes it a lot, 'Here it keeps you on your toes all the time, there's always something coming at you," she says and to prove her point she yells across the space at some sous chef who she's spotted slacking. 'Actually,' she continues, 'the only hard part is having to train new staff as some invariably drop out as we tour around and that can make service tricky. When the staff don't change then the kitchen runs smoother. Getting to a new location and having to train new people is hard."
Plates are now coming back thick and fast from the tent and an army of pot washers are disappearing in clouds of scalding steam to deal with them, Now the mains get ready for their turn on the culinary stage; the chilli steak, the lamb shank and the sesame crusted Norwegian salmon on wasabi mash, which was superb by the way (I nicked some). Outside three more acts are doing their remarkable stuff, each segment timed down to the second so that when they finish and Three Tons of Fun and Stella start to shake the boards again, the mains are ready to be sent out as swiftly and as efficiently as before.
With the mains away, the pace can slow slightly in the kitchen as the desserts are all cold they can be plated up easily and soon, once again, the tables are lined with identical dishes each inspected by Grethel to ensure totally clean presentation and total conformity. The Three Tons of Fun are on stage so that diners can concentrate on their food and not the acts and a medley of Supremes hits is coming through the wall. The kitchen staff hum along cheerfully while cleaning down and tidying up,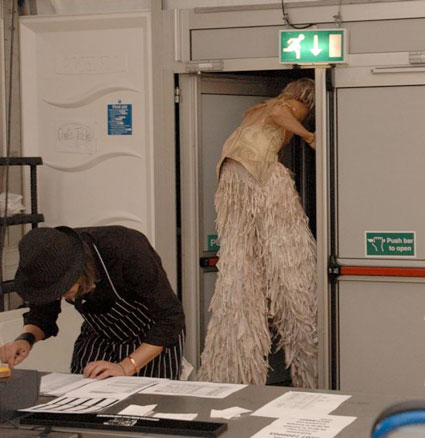 As a selection of South African songs start up, the desserts go out – Tirimisu, passion fruit cheesecake and sticky toffee pudding. Again very nice, I grabbed some as they went past. By now Grethel has retreated to her office to do the paperwork but her night isn't over. The grand finale is when all the team must take a bow and kitchen staff are no exception. Announced by the bearded lady compere, Grethel and her team run out to get their ell- deserved applause. As they duck back behind the curtain and into the kitchen, Three Tons of Fun go into a belting rendition of 'It's raining men' and the whole tent starts dancing, a party that will continue for some time yet.
Outside I'm having a fag with some of the Zingara team who are all living in one hotel for the duration of the London stay. They're relaxed, happy and enjoying their tour of England so far. One gestures up at the massive chimneys of the Power Station looming over the tent. 'My big brother had that album, Pink Floyd? The one that had the picture of this place on the front? I never thought I'd be working here, It's just magic, isn't it?" Certainly is, catch Madame Zingara before she leaves London for Manchester, it's a night to remember and one that may not come again.