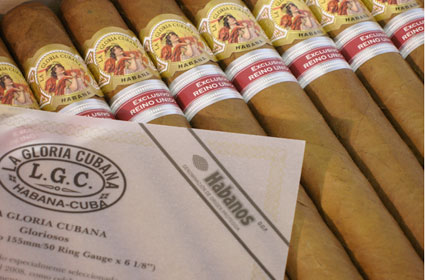 The smoking ban that came into effect in 2006 has subsequently seen many bars and restaurants struggle across the country. Those establishments lucky enough to have outside space that can be converted into smoking areas have thrived and it's quite amusing how many of these smoking areas are now more popular than the goings on inside. In these cold first few months of the year, all you seem to need is a canopy, to protect you from the wind and rain, one of those unhealthy standy-uppy heat-emitting thingys and a place to park your bum.
Being a social smoker myself, only after sex you understand, and arguably the sole reason why I have a fully stocked Marlboro light vending machine bolted to the wall in my bedroom, being asked to 'check out' a new cigar emporium in Teddington seemed like a fantastic way to spend an afternoon.
Ajay Patel and his wife Bhavna bought a run-down shop that only sold newspapers, cigarettes and sweets in Teddington in 1992. Their vision was to eventually specialise in sales of tobacco, cigars and accessories. The shop on Broad Street started selling lots of stuff that needed to be weighed – tobacco, chocolates etc, so the name Broadweighs was created and the future began.
The business finally took off in 1995 when they launched their web site – www.broadweighs-cigars.com At the time there were only about 4 sites that sold Cuban cigars on-line which was a stroke of luck because the cigar boom of 1997 and 1998 catapulted them into the spotlight.
In 1998 Ajay started visiting Cuba for the festival of tobacco. He got to meet the Torcedoras (rollers), enjoy the cocktail party's held in La Casa Del Habano around Havana and to broaden his knowledge with trips out to Pinar del Río, where the best and the finest cigar tobacco come from. It is now an annual event.
Last year, in September of 2008, La casa del Habano was opened in Teddington high street, the only one in England. There are 147 La Casa de Habanos in the world. It is here that you'll find the full range of Cuban cigars as well as a rare collection dating back to 1937. They have humidors signed by Fidel Castro, a library full of collector's books, and coolest of all, a dedicated cigar sampling lounge downstairs with a room specially designed inside of it that houses deposit boxes for members to store their personal collection in.
So, after a pleasant few hours chatting amiably to Dirk Benedict, who just happened to be there, pondering over a potential plan of attack for 2009 over a glass of Delamain XO Cognac, and generally putting the world to rights, as one does when sat opposite someone from the A-Team, we decided to organise a cigar and Cognac tasting evening for Thursday 19th March. Delamain are coming over to tutor the Cognac, Ajay will guide us through a selection of Cubans whilst we devour specially created canape's all at the same time. Tickets, priced at £75 per person are very limited but can be purchased by contacting me at: tim@kitchenersmithwines.co.uk
Fact: Cigars can vary in size and shape and can measure more than 7 inches in length. Large cigars typically contain between 5 and 17 grams of tobacco and it is not unusual for some premium cigars to contain the tobacco equivalent of an entire pack of cigarettes. U.S. cigarettes are made from different blends of tobaccos whereas most cigars are composed primarily of a single type of tobacco (air-cured or dried burley tobacco). Large cigars can take between 1 and 2 hours to smoke. National Cancer Institute.