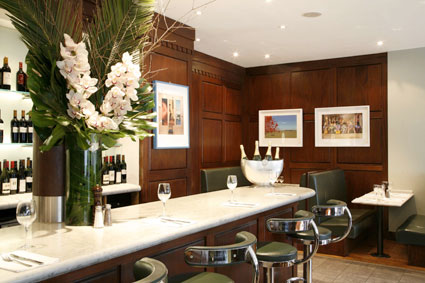 Ah the lost art of the album cover! Once CDs came in the rot started, no longer could you pit on your brand new album and sit back and read the notes, the lyrics and gaze at the artwork. Not without a magnifying glass anyway. One of the best of the album artists was Storm Thorgerson and until 28th February 2009, Black & Blue in Belsize Park, 205-207 Haverstock Hill, London NW3, will be displaying an exhibition of fine art prints by thisacclaimed designer and photographer who lives locally. Storm is well known for his design, producing iconic album covers for many of the country's leading bands including Pink Floyd, Led Zepplin, Muse and the Cranberries, a selection of which will be for sale for a limited time at Black & Blue. Prints are priced from £200 – £800, unframed. For more information, telephone 020 7443 7744.
Black & Blue reflects an American steakhouse experience using quality British produce. The restaurants are passionate about steak: beef is traditionally reared and grass-fed from fully traceable stock, it's then dry-aged and tenderised for a minimum of 28 days before being served as a wide selection of cuts: sirloin, T-bone, fillet, rib-eye and côte de boeuf. The burgers, made in-house, are another favorite, with topping choices such as guacamole, bacon and cheese and foie gras. Black & Blue also offers tempting alternatives including tuna steak, king prawns with garlic butter and grilled peppers, fillet of salmon and a variety of salads.
The wine list includes an excellent choice from the New World with many bottles from California, Australia, Chile, South Africa and New Zealand without neglecting some traditional French and Italian favourites.
Black and Blue aims to offer maximum flavor with minimal fuss in a classically modern surrounding with friendly and efficient service at all times.
There are a further four Black & Blue restaurants in the group, which are located in Notting Hill, Gloucester Road, Wigmore Street and Borough Market. For more information visit www.blackandbluerestaurants.com