Foodepedia wants to help you create the perfect date for your beloved sweetheart without emptying your bank account all in one night. To assist your Valelentine's Day plans, chefs from many London-area restaurants have put together some dream-menus worth checking out. Here you'll find oysters and foie gras starters, a "Cupid's Curry", and sticky toffee pudding or double chocolate cake for dessert. By assisting cupid with such fine menu selections, you will be sure to win your lover's heart. Singletons trying to avoid all of the kissing and cooing can head over to Chowki. As you dine on aromatic lamb curry cooked with ginger and cardamom, you might be swept away by that special someone you had never dreamed of meeting.
Spy in the Stonhouse of Love
To begin your romantic evening at Stonhouse, cosy on up to that special someone over six or a dozen oysters (£9/£17); or select equally tempting foie gras terrine with toasted brioche (£7.25) from the a la carte menu. Special mains include tournedos rossini, melt in the mouth fillet of beef with foie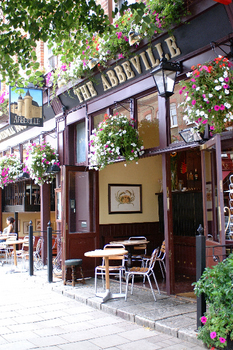 gras, served with seasonal flat mushrooms and pommes purée; and roast brill with ratatouille. Classic desserts such as sticky toffee pudding (£5) or double chocolate cake (£5) are the perfect way to end your meal.
Visit online at www.renaissancepubs.co.uk or tel: 020 7819 9312
A Valentine's treat at the Abbeville
Because times are tight, The Abbeville in Clapham invites you to enjoy a romantic dinner at prices you'll love.The specials board for 14th February sees grilled scallops and squid with champagne risotto and rose beurre blanc (£7) joining Abbeville favourite starters such as foie gras and chicken liver parfait with red onion marmalade and toast (£7).
Also making a guest appearance for the night is the perfect dish for two to share – succulent chateaubriand with a selection of roasted seasonal vegetables (£36); or you could enjoy pan fried sea bass served with crushed new potatoes, samphire and shrimp beurre blanc (£12.75). Choices to bring your intimate interlude to a conclusion include chocolate and pecan brownie with vanilla ice cream (£4.50) and selection of Neal's Yard cheeses with crackers, cranberry and grapes (£7.50).
Bookings available at www.renaissancepubs.co.uk or tel: 020 8675 2201.
Cupid's Curry at Mela
Mela, the country style Indian restaurant group is set to warm the hearts of loved ones this Valentine's Day with a 'Cupid's Curry' set menu that sizzles with spice. Firing up the evening are starters including konju moiley rasam; a soup of lobster, mussels, crab and calamari simmered in lemon grass with coconut, curry leaf and green chiliies. Mains of kundan kaliyan – boned shoulder of lamb with a rich gravy infused with saffron, topped with edible gold leaf – a must at every royal Awadh wedding feast; or indulge in aish-e-jahan – chicken tikka cooked in a velvety yoghurt with rose petals. Enjoy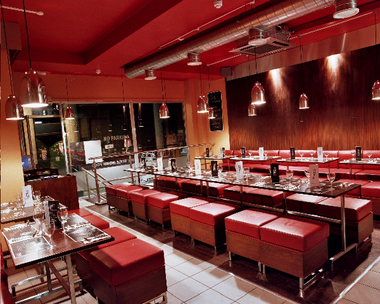 the special three-course menu from the 9th – 15th February and put some heat into your relationship. 'Cupid's Curry' set menu is £30 at Shaftesbury Avenue £25 at the Herne Hill and Redhill restaurants.
www.melarestaurant.co.uk; tel: 01737 766154
Chowki-a little spice for singletons
Chowki, in the heart of the West End, is the perfect escape from hand-holding, public displays of affection and over-priced set menus. Singletons should head to Soho's renowned regional Indian restaurant, for a Saturday night dedicated to non-couples. Long tables and an informal style allow diners to mix, mingle and meet like minded people if they choose or simply enjoy the range of over 27 regional cuisines from the sub-continent.
Bring your single friends to Chowki, where you could find yourself sitting nearby someone just as hot as the Indian cuisine. Keep it spicy with mains including Tandoori Prawns – king prawns marinated in saffron, crushed garlic and cumin seeds; or a Lucknow Lamb Korma – a deliciously aromatic lamb curry cooked with ginger, cardomom and mace in a light yoghurt. Dishes are great value and start from as little as £6.95, so when Valentine's comes round, grab some single friends and head to Chowki – it might just spice up your night!
Visit online at www.chowki.com or tel: 020 7439 1330
The Northcote road to love
This Valentine's Day, his lordship is opening up the dining room of The Bolingbroke on Northcote Road in Battersea for an intimate dinner.
As the prelude to your romantic, three-course meal, your options include lobster, prawn and avocado cocktail or half a dozen oysters. Memorable mains feature Pugh's suckling pig with caramelised apple mash, curly kale and Aspall's Cyder sauce; and line caught cod with purple sprouting broccoli, smoked salmon and crayfish sauce. With passion fruit crème brulée; and champagne and raspberry jelly amongst the delicious desserts available, you are sure to find something to delight.
At only £30 per person for dinner, tables at this extremely popular local gem are sure to be snapped up quickly, so be sure to make your reservation soon.
For bookings visit www.thebolingbroke.com or tel: 020 7228 4040