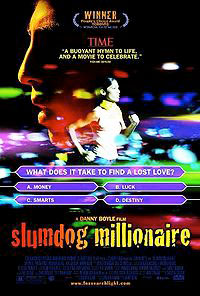 New British film, Slumdog Millionaire, the heart-warming and sometimes shocking tale of a Mumbai street-kid working in a call-centre who confounds all of India by winning the Indian TV show equivalent of 'Who Wants to be a Millionaire?'has won rave review from the critics and awards including a Golden Globe for best dramatic picture and Bafta nominations in 11 categories. To celebrate this cinematic achievement, two of London's Indian restaurants, Tamarind and Imli, are paying tribute to the movie's silver screen success with a special offer and a pair of menus that sees diners choose between traditional Mumbai-style streetfood and a lavish millionaire's repast.
Says the restaurants' CEO, Rajesh Suri of the innovative menus, 'The film has been the most amazing success and has found a lot of fans amongst India's film buffs. We thought it would be a bit of fun to play around with it as a theme for some excellent value and creative menus at Imli and Tamarind."
The 'Slumdog Millionaire Streetfood' menu is available at Imli, the casual Indian eatery in Soho, with menus to suit every pocket. The £9.95 menu is on offer until February 8th, at lunch and dinner and includes Masala Tea. The bill may be low but there's no compromise on taste in the array of dishes such as Wheat Crisps and Beansprouts with sweet Yoghurt, Mint and Tamarind chutney or Chicken cooked in aromatic spices with Green Chillies and Coriander Sauce.
Meanwhile, in soigné Mayfair, Imli's glamorous Indian fine-dining sibling, Tamarind, diners can go for the gourmet 'Slumdog Millionaire's menu', a beautifully presented feast of subtle spices and heavenly seasonal ingredients. Tamarind's Millionaire menu is £52 per person including a glass of champagne. The culinary creations includes starters of Tandoor Grilled Monkfish in a marinade of Ginger, Yoghurt, Ground Mustard and Saffron and skewered Ground Lamb with Garlic, Green Chillies, Peppers, Coriander and Spices. Delicious main courses include Tiger Prawns tossed with Bell Peppers, Onions, Tomatoes and Spices finished with toasted Coriander Seeds and Red Chiilies or Boneless Chicken cooked in a Spicy Gravy of browned Onions, Cashew Nuts, Tomatoes and freshly Ground Spices.
As an added bonus, diners who try out one of the 'Slumdog Millionaire' menus get a 25% discount to try the alternative menu at a later date.
'Slumdog Millionaire' is showing at cinemas throughout London, including the Curzon Mayfair (just a few minutes' walk from Tamarind), and at several different locations within minutes from Imli.