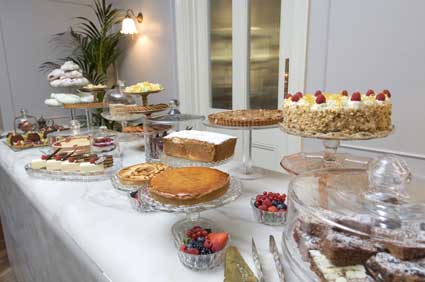 An entire room has been devoted to puddings, desserts, biscuits and cakes in the new look Kettner's – one of London's oldest restaurants and an institution in bohemian Soho.
The pudding bar display is over nine feet long, the Pudding Bar is situated right next to the grand main restaurant. It offers a splendidly sumptuous smorgasbord of sweet treats – all hand-made on the premises by patisserie chefs.
The current selection includes: chocolate pot with warm Madeleines (£7); poires Belle Hélène (£7); lavender pannacotta (£6); red berry ripple blancmange (£6); champagne jelly with black cherries (£7); lime meringue, vanilla mascarpone, gooseberry compote (£7); raspberry and chocolate meringue (£7); rose and raspberry macaroons (£4); chocolate cake (£5); opera cake (£5); and lemon tart (£6). There are also daily specials at £6.
Bespoke cakes can be also pre-ordered for birthdays and other special occasions – the chefs can create an infinite variety of confectionary concoctions in a rainbow of hues, styles and flavours.
Teas to accompany these treats come courtesy of Kusmi Teas, the prestigious tea company founded in St. Petersburg by Pavel Michailovitch Kousmichoff in 1867, the year of Kettner's launch. Choose from a wide selection that includes: Anastasia (bergamot, lemon and orange blossom black tea); Thé des Rois Mages (orange, almond, vanilla and spices black tea); and Thé du soir (blend of black teas from China and Darjeeling, ideal for evening).
Andrew Goddard, general manager of Kettner's, says: 'As part of our revamp, we wanted to create a more female-friendly venue. The Pudding Bar is central to this and the perfect spot for morning coffee, afternoon tea or late night treats. Decadent, indulgent and entirely frivolous, it offers an eye-popping array of delectable sweets – which are even more delicious when accompanied by a glass of pink champagne from our unrivalled list or one of our superlative special variety teas."
Kettner's is open seven days a week, from 8am to 1am Monday to Saturday and from 9am to 11.30pm on Sundays. Breakfast is served until 11.30am daily.
Kettner's Restaurant and Bar, 29 Romilly Street, Soho, London, W1D 5HP, 020 7734 6112, kettners.com