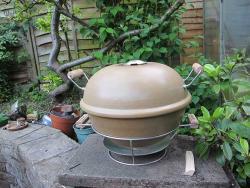 A pizza oven in the back garden is one of those things foodies fantasise about. Nick Harman finds that, with the Grenadier Pizza Oven, those dreams can come tastily true
While some people don't go bonkers over burgers, and find other American'rebooted' fast foods too fond of fat, sugar, salt and pork, a speedy pizza hits the spot perfectly. Even vegetarians can enjoy a pizza, after all. .
Of course we aren't talking about those monster disks of dough that turn up at your door with the majority of the, already meagre, topping stuck to the box lid, while the moped youth stands there breathing through his mouth and expecting a tip. We mean thin disks of proper dough, slightly crunchy, slightly chewy and topped with only sensible classic ingredients, no mincemeat thank you and if an'Indian pizza' was wanted, we'd just tip curry onto a Nan bread.
The best pizza purveyors have a wood fired oven or, second best, a gas fired one. Electric ovens just don't get hot enough and the heat is dry and imparts no flavour. A pizza has to cook in just a couple of minutes and wood smoke adds that special extra something.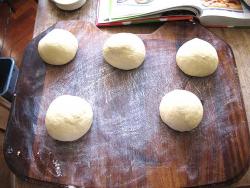 Cooking fresh pizzas at home is difficult. Yes you can whack your oven up to its highest temperature setting and place baking trays in to get sizzling hot, you can even buy pizza stones to use in domestic ovens, but they are at best only better than nothing. But then not many of us have the space, time or the money to build a proper wood fired pizza oven after all..
So here is the Grenadier Earthfire Pizza Oven, all the way from South Africa via Chester. It's heavy and presumably quite fragile so it arrives safely lashed down on a wooden pallet. The delivery driver stands back and lets me carry it in unaided.'I would help you, mate, but it's me back you see….' 
In the box is the oven, some oak handles to attach and a stainless steel'peel' for getting your pizzas onto and off the 35 cm stone, plus a device to help you safely put the stone into the hot oven. Some of these things don't correspond to the pictures on the web site; design improvements have been made, and the instructions have not in this case been updated either, but it's all pretty self-evident. Ten minutes and you're ready.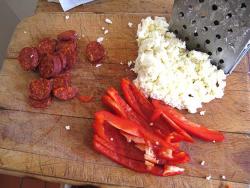 It needs to stand on something non-flammable; your best teak table is not ideal, and it needs to be only used outside or you'll die of carbon monoxide poisoning before your pizza is ready. We put ours on a spare flagstone and it was nicely safe and sturdy. You don't want to be knocking it over as it will probably shatter quite ceramically and disastrously.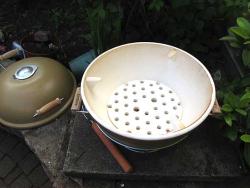 The ovens are handmade and the ceramic is about a half inch thick and the oven looks very impressive, almost sculptural. The only metal bits are rust proof so it can stand in the garden all year round. Lighting is a breeze with some bits of kindling and a Zip firelighter and then a medium sized pile of charcoal (or you could use seasoned wood, beech is best) on the ceramic grate. Wait a minute or two, put the lid on with the vent fully open then stand back and admire the cheerful plume of smoke jetting out like a steam train going up a gradient.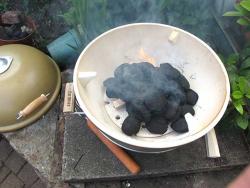 Within 30 minutes the coals are all white hot, which is fast thanks to the unique ceramics used, and you can carefully put in the stone. The lid goes back on and you wait around ten minutes more for the stone to heat up. Then comes the best bit, adding your pizza.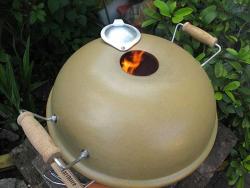 We made a simple dough using fresh yeast and strong white flour. Better would be a mix of bread flour and 00 pasta flour or, if you can find it Polenta flour. This should not be confused with Polenta. Also better is to use a sourdough starter and a long, slow fermentation. We were pressed for time, so did a quick dough in two hours. As the base is so much of the flavour if you can craft your dough so much the better.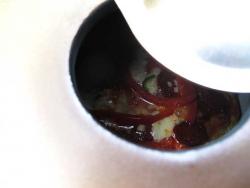 The first pizza was frankly a disaster. We didn't flour the peel enough and the pizza stubbornly refused to slide off onto the stone. We salvaged what we could of the toppings, threw away the base, and tried again.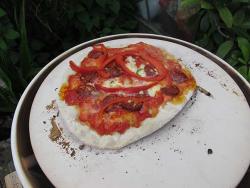 This time the pizza. albeit a bit misshapen by our amateur hands, slid off the peel willingly and we swiftly clamped the oven lid back on and peered through the vent to watch progress and get burnt eyes.
You could see the cheese and toppings sizzle immediately while the edges of the base puffed up. After three minutes we whipped off the lid and whipped out the pizza. You want to be quick about this to keep in the heat, an average charcoal charge should, the makers say, give you two hours cooking.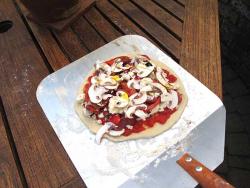 It was pretty good for a first attempt; the base crispy enough to allow you to pick up a slice without it collapsing but not excessively crunchy. Emboldened we tried again, going for a larger and thicker base; practice makes perfect after all.
The third pizza was the best; the base now blistering as the gas expanded and popped to give those lovely burnt bits and an authentic appearance. You can also use the grill supplied to stand on the stone to cook shop bought pizzas, not as good as your own but the charcoal oven does give them a better flavour.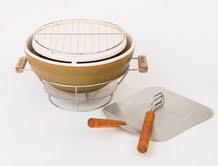 You can also use the grill without the stone, effectively creating a standard kettle barbecue ideally sized for a small family. We also tried cooking tandoori chicken in the Grenadier; the intense heat perfect for the job with the skewers of meat coming out authentically charred. The pizza stone we found was also great for cooking flatbreads of all types and with the stone covered in protective tinfoil you can roast vegetables and fish very well too.
Conclusion? Well it ain't cheap at around £350 but it is a thing of beauty and its size makes it ideal for home use. You could even use it on a balcony without much trouble. It does its primary job brilliantly well and, as it can be used for other kinds of cooking too, the price starts to look more sensible. Barring accidents a Grenadier should last forever and be cooking perfect pizzas for your grandchildren's children and acquiring a legendary military record year on year.
Top chef Jason Palin has created a few summer recipes for the oven which you can find on the Grenadier blog blog.grenadier.co.uk